Introduction
English is as good as my native language and I'm fluent in it. However, I was not always like this. My "mother-tongue" is Hindi. So, when I started getting into debates, elocution, and speeches during my school days, I had to translate the sentences from Hindi to English, many times. Translations don't always work out well and try doing that on the fly! Even today's ubiquitous Google can't do that with 100% accuracy.
Added to that was the effect of my mother tongue. This means I had to do some focused work on my pronunciation. I faced the same problems with pronunciation kids face today. Phonetics was never an emphasised part of my school curriculum (CBSE).
The most important question I had was, were there rules which I can follow and never falter again? I consciously learned Phonetics without anyone's intervention and that helps me a lot in improving my pronunciation.
Can you relate to his story? Have you faced this problem or been through the same journey? Are your children facing the same problem today?
In the third part of the NumberNagar® Dialogue Series, I Talk to Sneha on various aspects of bringing fluency in spoken English in children. Sneha is an English Facilitator in NumberNagar and focuses on creative and fun ways to teach English to children.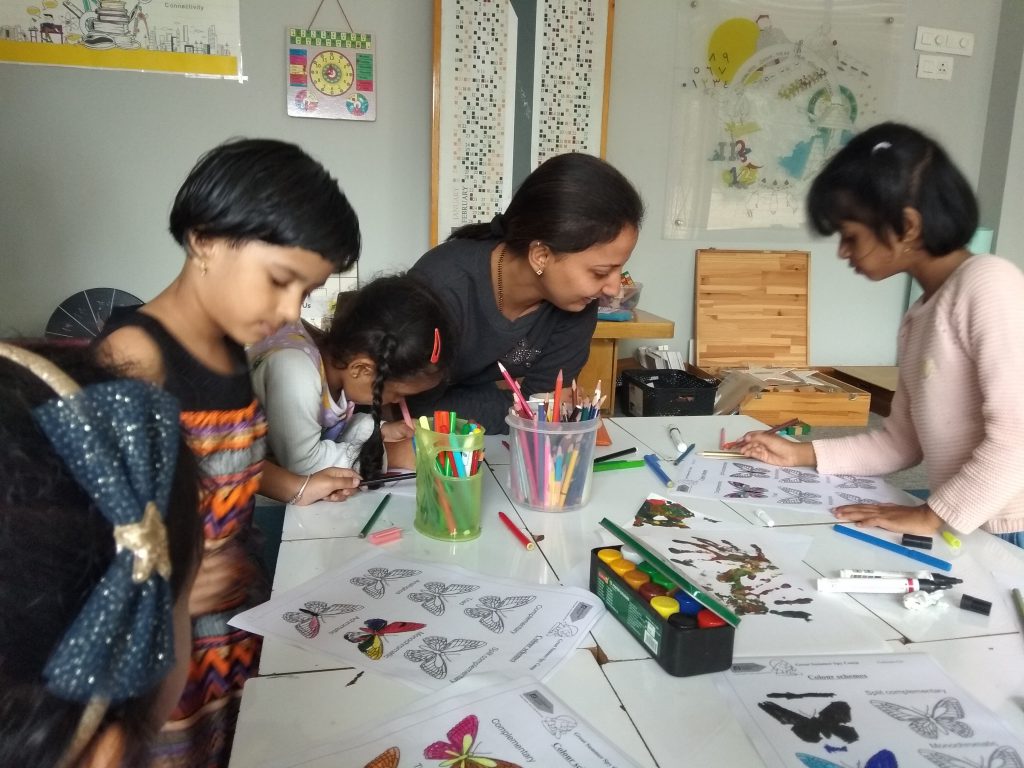 Dialogue with Sneha
Nishant: "Please tell me something about yourself and your role in NumberNagar."
Sneha: "I am a creative person with varied interests. I was a budding theatre artist in Rangayana, Mysore, during my graduation and even after that. I love to dance. For a very long time in my early 20s, I aspired to become a Kathak dancer, which didn't happen though. I never gave up my hopes as I still have the urge to learn something new every single day.
At the same time, I am also a people's person. That's one thing that connects me to the students here at NumberNagar®, and it also becomes easy to communicate with parents.
Here at NumberNagar®, I am the English Facilitator. I help children experience learning in a fun way. I focus on the child's needs and engage them actively in the learning process."
Nishant: "What are your areas of interest? I know that you are focusing mainly on English."
Sneha: "I'm a Science teacher basically. I never thought I would teach English until I first started to take English classes in 2015 in a School where previously worked. I worked in 3 schools as an English Teacher. When I joined NumberNagar®, the training process was quite engaging and equipping which boosted my confidence to handle this on my own."
Nishant: "So, you have been working with children as a facilitator on day to day basis. What are your observations about the children in general when it comes to learning English?"
Sneha: "I feel the difficulty in learning the Language is seen in their early years and when the problem is not addressed the child faces difficulty when she/he goes to the higher grades.
Most children do not have the habit of reading books from their young age, which makes them have a poor vocabulary.
The interest in learning the language for the children coming from different background say a kid with good exposure to the language back at home as opposed to a kid who lacks that exposure might vary. That where I chip in with the fun activities."
Nishant: "Were you always good in English from your childhood? If that's not the case, what did you do to make yourself an expert in various aspects of English as a second language."
Sneha: "No, I have acquired the English language skills only during my school and college days. But most of it after my graduation, since I cultivated the habit of reading books then. I regret that now as it was too late. To start with I read novels that interested me. As a result of reading more books, I was able to enhance my vocabulary with each passing day.
Furthermore, I made friends in college from other states and we spoke about a lot of things at length. The experience of conversing on diverse topics has been very precious to me as it inspired me to improve my communication skills in English. Another of my most enjoyable English language learning experiences has been watching TV. Watching English films helped me a lot to improve my pronunciation, accent, and fluency in English.
And now after joining NumberNagar®, I feel I had to go back to the basics, since I now deal with lower grade kids and teaching them this language is a big challenge. I had to prep myself for a couple of months during all my training sessions and even after that I continued so as to teach them the right way first."
Nishant: "That's fascinating. I can completely relate to it. Reading novels and watching TV, especially channels like BBC, National Geographic, and Discovery, helped me a lot gaining new vocabulary and honed my speaking skills.
Nishant: "Do you see the children you work with lack in certain areas which makes it hard for them to learn English, especially spoken one?"
Sneha: "Yes, very much. Since English is not their language spoken at home, it becomes difficult for the child to "Think in English". This is where I as a Facilitator play an important role. I work with them to eliminate their literal translation from their first language. I ensure that they read as many books as possible and summarize the content without any literal translation.
As mentioned earlier, a lack of proper exposure to the language also adds to it."
Nishant: "Someone has rightly said, "If you can't think in English and dream in English, you haven't learned English completely". Literal Translation is an important topic you have touched upon. Let's talk about pronunciation. How big the role pronunciation plays in the success of the children in their career?"
Sneha: "People with a strong accent can be hard to understand or rather unpleasant to hear sometime. This reminds me of one of my Professors in my Degree college, who never called my name correctly since he had a strong influence of his mother tongue to the English language.
Good pronunciation requires articulating the syllables properly and this is the main topic of interest in Phonics sessions."
Nishant: "How big a role mother tongue plays in how children approach pronunciation? Is this bias inherent to us as Indians?"
Sneha: "The role of mother tongue in how the children approach pronunciation is both positive and negative.
Generally, the mistakes made in pronunciation are due to differences in the sound system and spelling symbols between the mother tongue and the English language. With more and more listening to the English language, one can slowly learn to replace the mother tongue sounds with the original sounds of English.
The mother tongue helps to map certain sounds to the language which makes it easier to identify sounds. At the same time, certain sounds that are absent in the mother tongue can affect the pronunciation as well as the accent for Indians."
Nishant: "Are there ways to "normalise" this bias? For example, do you think Phonics can play a role here?"
Sneha: "One way is letting students know when they are being influenced by their mother tongue. It is a good way of stopping it from happening repeatedly.
Yes, I strongly feel that Phonics can play an important role by helping the child to recognize the sounds in the words and spell them correctly. Also, it neutralizes their accent with much practice. This, in turn, will boost their confidence when they speak publicly. With the boosted confidence and loads of encouragement back home, they tend to show more interest in reading."
Nishant: "A lot of people use Phonics and Phonetics interchangeably. Are there any differences between them?"
Sneha: "Yes, by definition, Phonics is teaching people to read by correlating the sound with the symbol with the alphabetical writing system while Phonetics is the study and classification of speech sounds."
Nishant: "We see that aspirations of parents are hinged with their children speaking fluent English. Which one do you think is more important, speaking fluent English or speaking grammatically correct English? Or they are both equally important?"
Sneha: "I feel focusing on one alone will bring an imbalance since both have to go hand in hand.
As we have often heard people saying, "If you want to become fluent in English, then you should try to learn English without studying grammar." This statement is true to some extent since you otherwise think about the rules when creating a sentence instead of saying it naturally.
What I feel is, children can attempt to learn phrases that contain the necessary grammar in them initially. After that, they can practice mastering them slowly but diligently. So, over a period of time, they will become better both in fluency, grammar, and vocabulary."
Nishant: "What would you recommend as the starting point for anyone who wants to be fluent in English?"
Sneha: "The three things I would ask any new learner are: Listen, Read and Practice.
It's important to listen to how the Language is spoken first. And then start learning the language.
Next comes reading to build the vocabulary.
And the last part is to practice so that it is retained in your memory."
Nishant: "How do you think NumberNagar helps in making children appreciate and learn English in a fun way?"
Sneha: "I've mentioned a few points already before. Adding to the points mentioned above, we also have an English kit designed in such a way that caters to the needs of any child coming to NumberNagar irrespective of their learning levels, in a fun-filled approach. As they become competent in their current grade level they also get to explore and learn a grade beyond their level. We also bring out the best of their creativity through illustrations, writing poems and similar activities.
The learning style/methodology in NumberNagar enhances every child's learning experience when he/she connects to in their real-life situations."
Nishant: "Thank you, Sneha, for the fascinating insights about learning to speak fluent English. These will certainly help children as well as grown-ups alike. How do we reach to you if we have any questions?"
Sneha: "Thank you, Nishant. You can always reach out to us at info@numbernagar.com or call us on +91-63612 02395."
Conclusion
Everyone in NumberNagar works hard towards creating meaningful learning experiences for children, every day. Learning to read, speak and listen to English in a fun way is another important aspect of overall learning and development of children.
Our 5CTM methodology is based on the belief that a learning cycle is complete when a learner is immersed in the 5Cs of learning – Curiosity, Clarity, Connectivity, Communication, and Competence. It ensures that creativity is inculcated in children, which helps them in various ways throughout their journey.
What do you think? Let us know by adding a comment below and connecting with us using the form below.
I'd recommend you to also read the following articles we published before and are relevant to this important discussion:
The following two tabs change content below.

Nishant is Co-founder of a startup on anti-counterfeiting technologies "Tech Machinery and More Pvt. Ltd.", and Head of Technology at "NumberNagar". He is an entrepreneur, Software Architect, Innovator and Inventor with many granted and pending patents. He loves exploring and putting to use new ways to solve complex problems in the areas of the Internet of Things (IoT), Machine Learning, Security, and UX. Nishant is enthusiastic about public speaking and editing. As an editor, he has edited multiple books, conference papers, and Ph.D. papers. As a writer, he loves to venture into technology as well as non-technology areas on a regular basis. He invests a good part of his time working with non-profit organizations and in mentoring and coaching students and startups. He is working on original research on technology areas like IoT, Security, and Machine Learning, and human psychology areas with a focus on UX and on "increasing productivity by removing the incentives from non-compliance".

Latest posts by Nishant Krishna (see all)