The mascot of NumberNagar® is Kudums™. She is bright and brainy, conceptual and creative.   She represents NumberNagar®'s unique 5C™ approach – Curiosity, Clarity, Connectivity, Communication and Competence.
Her character exudes all the 5 Cs and she is ever ready to explore the universe around her.
She exhibits an urge to learn and asks many questions; she is Curious.
She understands concepts clearly and can apply her understanding in related situations; she has Clarity.
She finds relations between concepts across different contexts, situations and subjects; she is good at Connectivity.
She articulates her thoughts and understanding well in speech and writing; she is excellent in Communication. 
She achieves the above 4 Cs continuously and consistently over a period of time with new concepts she learns; she is Competent.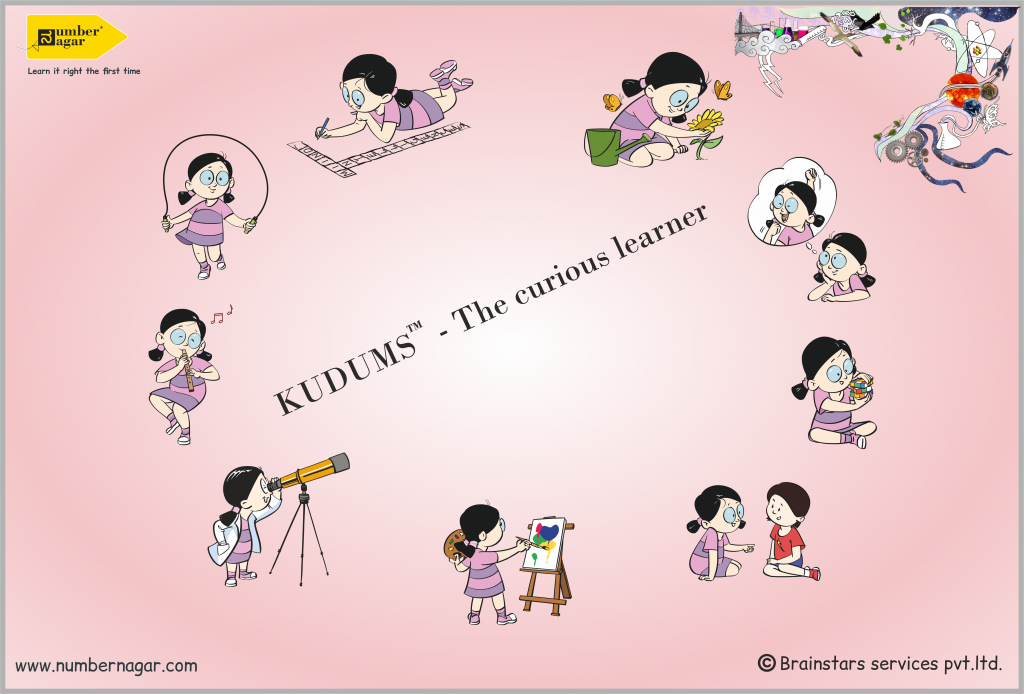 How did Kudums™ come about?

During brainstorming sessions for a potential mascot of NumberNagar®, the team wanted a personality that characterises, elaborates and personifies the 5C™ approach.  Characters that have captured the imagination of generations of children and adults alike – Asterix, Obelix, Tintin, Calvin (of the 'Calvin and Hobbes' fame), and Dennis (of the 'Dennis the Menace' fame) were discussed.
In one of these discussions, the word "Kudums" emerged and it got planted in everyone's mind.  In Bengaluru's native language Kannada, "kudumi" is a colloquial word that describes a student who is studious, scores good marks, typically liked by teachers, unmischievous and means no harm to her peers. To sum it up, boring! (The closest English equivalent for kudumi would be "nerd") On account of this, she is the butt of jokes for her friends who are more mischievous and less studious.  All such students are nicknamed "kudumis" (plural of kudumi) of the class.  Each class in every school have their own share of kudumis.
The team decided to take Kudums™ out of the classrooms and make her into a mascot for learning. She learns Maths, English, Science, and every other concept and subject in her own curious, creative and fun manner. By doing this, she makes learning enjoyable and interesting.
By choosing Kudums™ as the mascot, the team at NumberNagar® aims to inspire students to look at learning through a curious lens. The team also desires to reverse the mocking every kudumi gets from her friends and transform the meaning of the word.
Walk in to NumberNagar®, join our Kudums™ in making your learning journey bright, creative and fun.
The following two tabs change content below.

Dr. Soumya is an Educator and Researcher with a passion for reading, writing and teaching. She holds a PhD in Chemistry (Michigan Technological University, Houghton, USA). Her experience as a student and a teacher in two countries led her to pursue a career in Education. Her core work at NumberNagar® involves quality delivery of product and services at every stage of the customer life cycle. She leads the team that makes this happen. Previously she has taught Chemistry to first year undergraduate students at Michigan Technological University. She is a voracious reader and challenges herself to read 50 books every year.

Latest posts by Dr. Soumya Sreehari (see all)