Fun with words
Have you ever had fun with words? Have you played word puzzles in the newspaper? Whatever the activity is, we all enjoy playing, is it not? Children like to play most of the time. For children, playing and learning are the same thing. A whole lot of learning happens when children play. When children are engaged and are enjoying an activity, their chances of learning from it are high.
Not only children, adults too. When we enjoy doing something, we retain that experience longer. So, this weekend, we have an interesting word puzzle for you. Play and have fun with words.
Doublet – the word puzzle
Lewis Carroll first created this puzzle on the Christmas of 1877. He did this to keep two girls occupied, who had nothing to do. Later he published some of these puzzles in Vanity Fair magazine. These popular puzzles were published subsequently as a compilation, including the original letter from Lewis Carroll.
Have I made you sufficiently curious? Let us play.
Rules of the game
There is a 'Start' word and a 'Target' word – both containing the same number of letters

Starting with the 'Start' word, in each step, only one letter is changed to make a new word – no proper nouns allowed, the new word should have meaning and should be found in a dictionary

The steps are continued until the 'Target' word is formed

The new words formed in each step are called 'links' and the series of links is the 'chain'

The challenge is to go from 'Start' word to 'Target' word with a minimum number of 'links'
Example 1
CAT TO DOG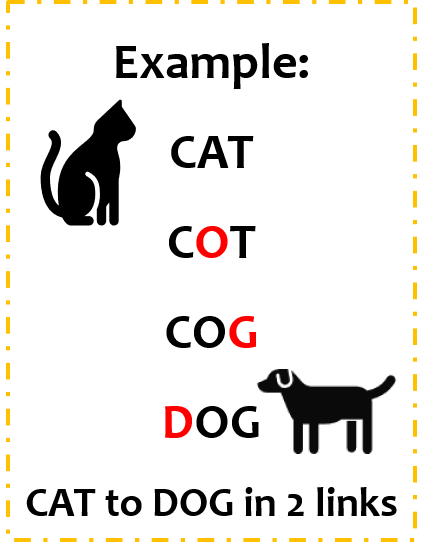 Example 2
TEA to HOT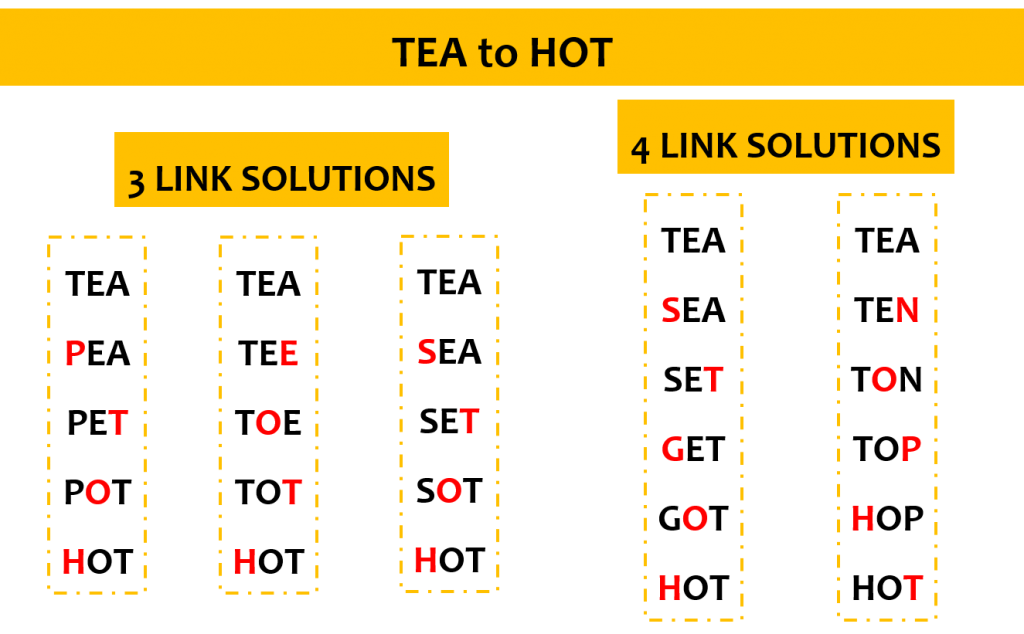 Play more
Are you ready to play more now? Here are more puzzles for you to try. Go ahead, have fun with words.
EYE to LID
PIG to STY
FOUR to FIVE
FISH to BIRD
Share your answers with us in the comments section.
Until next time, continue to stay curious!
You can find all articles related to English on our blog here.
Featured Image credits: Wokandapix from Pixabay
*******************************************************************************************************************
The following two tabs change content below.

Dr. Soumya is an Educator and Researcher with a passion for reading, writing and teaching. She holds a PhD in Chemistry (Michigan Technological University, Houghton, USA). Her experience as a student and a teacher in two countries led her to pursue a career in Education. Her core work at NumberNagar® involves quality delivery of product and services at every stage of the customer life cycle. She leads the team that makes this happen. Previously she has taught Chemistry to first year undergraduate students at Michigan Technological University. She is a voracious reader and challenges herself to read 50 books every year.

Latest posts by Dr. Soumya Sreehari (see all)