Introduction
Creativity is a frequently discussed topic. We see a lot of creative people around us, musicians, writers, artists, poets, designers, photographers, journalists, and many such people, we generally associate creativity with.
What if, the purview of creativity is much wider than these personas? What if creativity plays a major role in our success in life, even if we don't belong to such job profiles. And, what if, entrepreneurs, inventors, innovators, scientists, teachers, and many other such personas need creativity as the essential element? These are some of the questions which were in my mind for a while.
In the second part of the NumberNagar Dialogue Series, I Talk to Aruna about various aspects of creativity in Children. Aruna takes multiple roles in NumberNagar. In one of her roles, she is also the franchisee and facilitator for our Gubbalala Centre, one of the longest-running franchises. Aruna is also one of the co-founders of NumberNagar.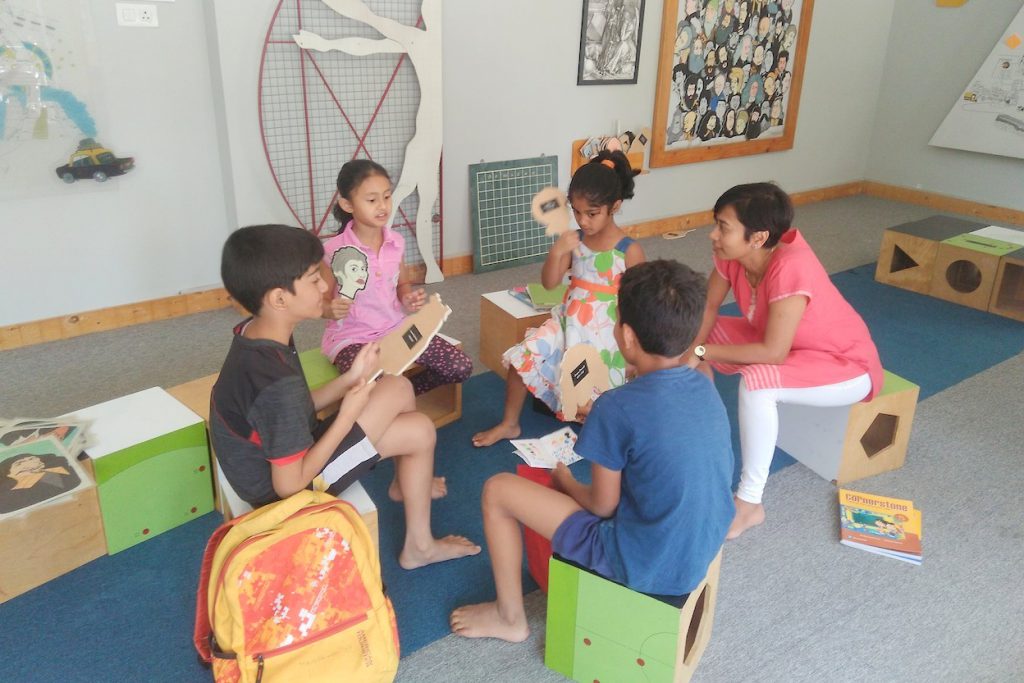 Dialog with Aruna
Nishant: "Please tell me something about yourself and your role in NumberNagar."
Aruna: "My name is Aruna. I am a Computer Science engineer with a Masters in Psychology. I currently head the RDD in NumberNagar. Additionally, I also own a NumberNagar Franchise where I teach children English and Maths. I have learnt Bharatanatyam as a child, love to play Veena and enjoy sketching during my spare time. I do enjoy yoga, running, and swimming which keeps me energetic and fit."
Nishant: "So you have been working with children as a facilitator on day to day basis. What are your observations about the children in general?"
Aruna: "Children love to learn new things as long as it is made fun and interesting. Children are curious by nature, if nurtured right, one can see amazing results with regarding learning. However, the current generation, very few kids are willing to ponder over a problem long enough to discover the solution on their own, while most of them want answers immediately."
Nishant: "Do you see yourself as a creative person?"
Aruna: "Yes, I do see myself as a creative person, but very much a logical thinking person, maybe there is a structure to my creative thinking skills, is what I feel. I am yet to create something altogether novel though, according to me."
Nishant: "When did you find that you were on the creative side of things?"

Aruna: "Very early as a child. I always loved drawing, art and craft, and music. I loved building and creating and tinkering things."
Nishant: "That's great. All of us who work in NumberNagar very well know that you are responsible for many of the innovations children use every day in our franchises. Can you please name a few?"
Aruna: "The English grammar kit, and the Phonics reading programme."
Nishant: "Good to know. I think both of these products will make learning English much simpler and more fun for kids. Now let's change gears. There is this strong belief that one is born creative than training and hard work playing a bigger part. What are your views on this?"
Aruna: "In my experience creativity exists in some form or the other in everyone. But it really needs to be nurtured well to reap the benefits. The environment must be conducive for that and the opportunities to exercise them must also be present."
I have observed that creative teaching methods have helped students learn better, however inculcating creativity among teachers is not an easy task. Creative thinking is something that needs to be worked on just like any other skill, I suppose."
Nishant: "Makes sense. In fact, many pieces of research have debunked the myth of being left-brained and right-brained. However, have you observed that there are many children who are much more inclined towards creative tasks than others? Do you also think cultural and social influences play a role here?"
Aruna: "Yes, some children are more inclined towards creative tasks than others. Yes, I do think that cultural and social influences play a huge role here. The amount of exposure the child has, and the environment they live and learn, and the access they have to things or material to experiment with definitely plays a huge role. As simple as a scrabble game to play and build words makes a huge difference in the ability of the child to learn new words and its usage."
Nishant: "Are we talking about Multiple Intelligence now? How does that work?"
Aruna: "Multiple Intelligences theory has its merits when it comes to understanding the strengths of an individual. It helps a teacher identify the right activity or method to teach the child a concept based on her/his strength (key intelligence) of the child. This is possible in a setup like NumberNagar, however very hard to implement in school. Suppose a child's intelligence is high on logical skills – teaching through solving puzzles – word puzzles, images based puzzles and such. A child whose verbal intelligence is high, one could teach through stories, or ask them to read information related to that."
Nishant: "CBSE is also encouraging to focus on STREAM (Science, technology, reading & writing, engineering, arts, and mathematics) than STEM (Science, technology, engineering, and mathematics). What are the implications?"
Aruna: "I strongly believe in STREAM than just STEM. Especially in today's scenario where the computers are robust enough to do repetitive jobs, and the advancement of AI-based solutions, the professions in the coming years call for more creative thinking skills, which of course only art can bring in. Creation is something human beings are good at, those skills must be honed to thrive in the decades to come for the next generation."
Nishant: "Thanks a lot for your views. Finally, how do you think NumberNagar helps in the overall development of children, creating multiple intelligences, and making them more creative."
Aruna: "NumberNagar gives ample opportunities and tools for children to think and solve problems be it in Maths, English or Science from various angles. The exposure to the history, the relevance of a concept and its applications are discussed while teaching, which invariably encourages a child to think deeply about a topic rather than just learning for the sake of exams."
Nishant: "Thank you, Aruna. These are relevant points made from your first-hand experience working with children and understanding the psychology of creativity. How do we reach to you if we have any questions?"
Aruna: "Thank you, Nishant. You can always reach out to us at info@numbernagar.com or call us on +91-63612 02395."
Conclusion
Everyone in NumberNagar works hard towards creating meaningful learning experiences for children, every day.
Our 5CTM methodology is based on the belief that a learning cycle is complete when a learner is immersed in the 5Cs of learning – Curiosity, Clarity, Connectivity, Communication, and Competence. It ensures that creativity is inculcated in children, which helps them in various ways throughout their journey.
What do you think? Let us know by adding a comment below and connecting with us using the form below.
I'd recommend you to also read the following articles we published before and are relevant to this important discussion:
The following two tabs change content below.

Nishant is Co-founder of a startup on anti-counterfeiting technologies "Tech Machinery and More Pvt. Ltd.", and Head of Technology at "NumberNagar". He is an entrepreneur, Software Architect, Innovator and Inventor with many granted and pending patents. He loves exploring and putting to use new ways to solve complex problems in the areas of the Internet of Things (IoT), Machine Learning, Security, and UX. Nishant is enthusiastic about public speaking and editing. As an editor, he has edited multiple books, conference papers, and Ph.D. papers. As a writer, he loves to venture into technology as well as non-technology areas on a regular basis. He invests a good part of his time working with non-profit organizations and in mentoring and coaching students and startups. He is working on original research on technology areas like IoT, Security, and Machine Learning, and human psychology areas with a focus on UX and on "increasing productivity by removing the incentives from non-compliance".

Latest posts by Nishant Krishna (see all)