Introduction
As parents / teachers / facilitators, we are observing that the stress level in children is on the rise. At the same, time, we also observe that the energy level in children is going down.
In the first part of the NumberNagar Dialogue Series, I talk to Sushma, who is working as centre manager and Maths facilitator at our KS layout centre.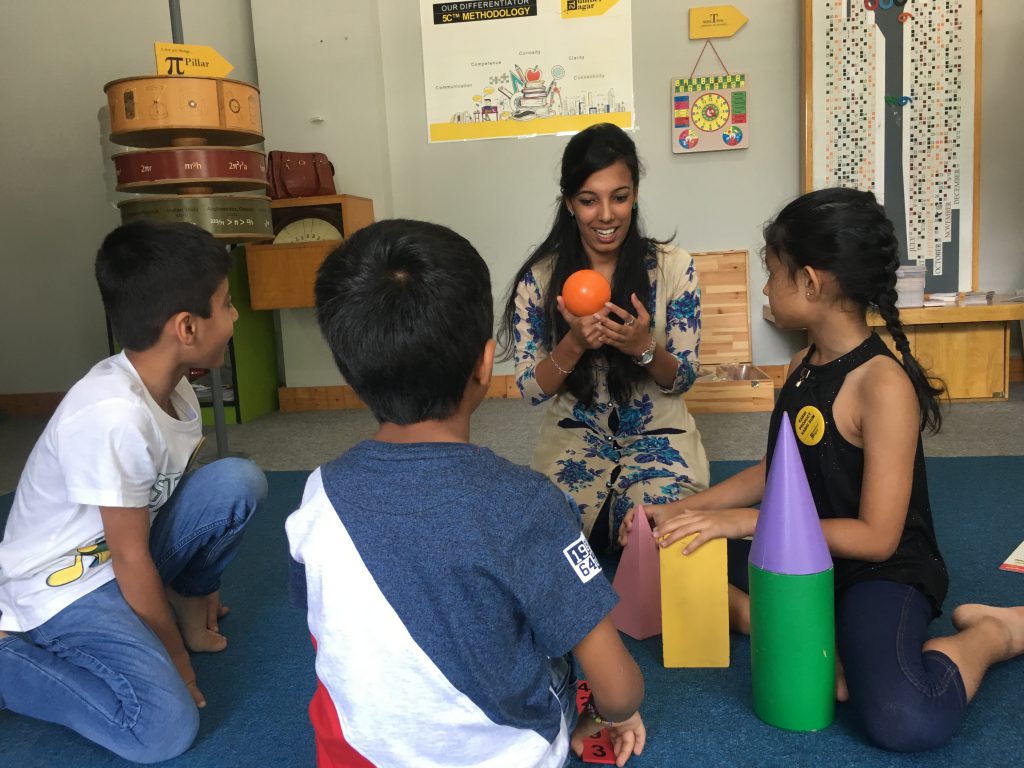 Please feel free to provide your comments and feedback below. If you want to reach out to us to understand how NumberNagar can help your kids attain a 360-degree growth, please get in touch with us by filling the form.
Dialogue with Sushma
Nishant: "Please tell me something about yourself and your role in NumberNagar."
Sushma: "My name is Sushma. I am working in NumberNagar from the past 1.5 years as centre manager and Maths facilitator at the KS layout centre. It's been an amazing and meaningful journey so far being part of the company."
Nishant: "So you have been working with children as a facilitator on day to day basis. What are your observations about the children in general?"
Sushma: "When I interact with the children, I get to know about them and their abilities, interests, and personal characteristics. Knowing each child helps me to plan individualised activities. Children are more likely to gain skills and knowledge when we engage them in doing activities and when they are set free."
Nishant: "What do you think are the main factors which are making them stressful? Are their parents and their aspirations responsible for the stress in the children?"
Sushma: "Children are stressed for various factors, mainly it is due to academic pressure. Parents expect their kids to score more marks in schools and also, they want kids to be multi-talented. Parents also tend to make their kids part of the various hobby and sports classes, though the kids may not be interested…"
Nishant: "Great points, and something to be concerned about too! I think you also mentioned a while back that you see the energy level going down in the children you work with. What do you think are the main reasons?"
Sushma: "Energy level in the kids is going down and the factors as follows.
Children have schedules to make them multi-talented.
Children are left with no free time to relax as they go to multiple hobbies and sports classes.
Not getting enough sleep makes it difficult for students to concentrate and learn effectively."
Nishant: "I personally feel, kids are expected to do too many things to compete with their friends. For example, a typical kid today may be taking multiple hobby classes (e.g., singing, dancing, painting, swimming, karate, musical instrument, and other fine arts) and also many other core subject based classes. How much role does such type of multi-tasking play in the lower energy of kids?"
Sushma: "Activities like sports, art or music should help to overcome stress, not add to it. But may times children are not allowed to play games in the playground, rather they are sent to indoor activities."
Nishant: "Thanks a lot for your response. You have mentioned very important points which every parent should be aware of. Kids can excel in what they do if they focus their energy on fewer such activities."
Nishant: "Finally, do you think proper sleep and physical activities also play a major role in keeping the energy level of the children high and keeping them stress-free? You did mention that the level of stress can increase if kids don't get enough sleep."
Sushma: "Yes even slight sleep loss affects memory, judgment, and mood. Proper sleep and physical activity which children wish also play a major role in keeping the energy level of the children high and keep them stress-free."
Nishant: "And the last question is, how do you think NumberNagar helps in the overall development of children while keeping them stress-free."
Sushma: "NumberNagar helps in the overall development of children by engaging, making the learning enjoyable and thus creating a meaningful learning experience."
Nishant: "Thank you, Sushma. These are relevant points made from your first-hand experience working with children. How do we reach to you if we have any questions?"
Sushma: "Thank you, Nishant. You can always reach out to us at info@numbernagar.com or call us on +91-63612 02395."
Conclusion
Everyone in NumberNagar works hard towards creating meaningful learning experiences for children, every day.
Our 5C™ methodology is based on the belief that a learning cycle is complete when a learner is immersed in the 5Cs of learning – Curiosity, Clarity, Connectivity, Communication, and Competence. It ensures that creativity is inculcated in children, which helps them in various ways throughout their journey.
Sushma is working with children of various skills, abilities, interests, economic backgrounds, and learning speeds, as part of her job. She mentioned many relevant points which would certainly act as eye-openers for parents and teachers alike.
I'd recommend you to also read the following articles we published before and are relevant to this important discussion:
What do you think? Let us know by adding a comment below and connecting with us using the form below.
The following two tabs change content below.

Nishant is Co-founder of a startup on anti-counterfeiting technologies "Tech Machinery and More Pvt. Ltd.", and Head of Technology at "NumberNagar". He is an entrepreneur, Software Architect, Innovator and Inventor with many granted and pending patents. He loves exploring and putting to use new ways to solve complex problems in the areas of the Internet of Things (IoT), Machine Learning, Security, and UX. Nishant is enthusiastic about public speaking and editing. As an editor, he has edited multiple books, conference papers, and Ph.D. papers. As a writer, he loves to venture into technology as well as non-technology areas on a regular basis. He invests a good part of his time working with non-profit organizations and in mentoring and coaching students and startups. He is working on original research on technology areas like IoT, Security, and Machine Learning, and human psychology areas with a focus on UX and on "increasing productivity by removing the incentives from non-compliance".

Latest posts by Nishant Krishna (see all)