Preparation for the much-awaited event:
We were pretty excited about the eclipse viewing event plans. As expected, the morning of 26 Dec 2019 was misty and cloudy. The eagerness to witness the annular solar eclipse was so high that I was willing to take a chance. The idea was to gather the participants on the terrace of the building that hosts the NumberNagar® Gubbalala centre. As the invite mentioned "subject to weather conditions", I was aware that most people who saw the invite might decide not to travel. This is also a way of checking the curiosity of the crowd.
It was very cold, and I assembled my Celestron 3" refractor on the terrace and was hoping for a glimpse of the event. As an astronomer, I am aware that during cloudy weather conditions it is a 50-50 chance of any observation. The same astronomer in me also knows that it's worth the wait.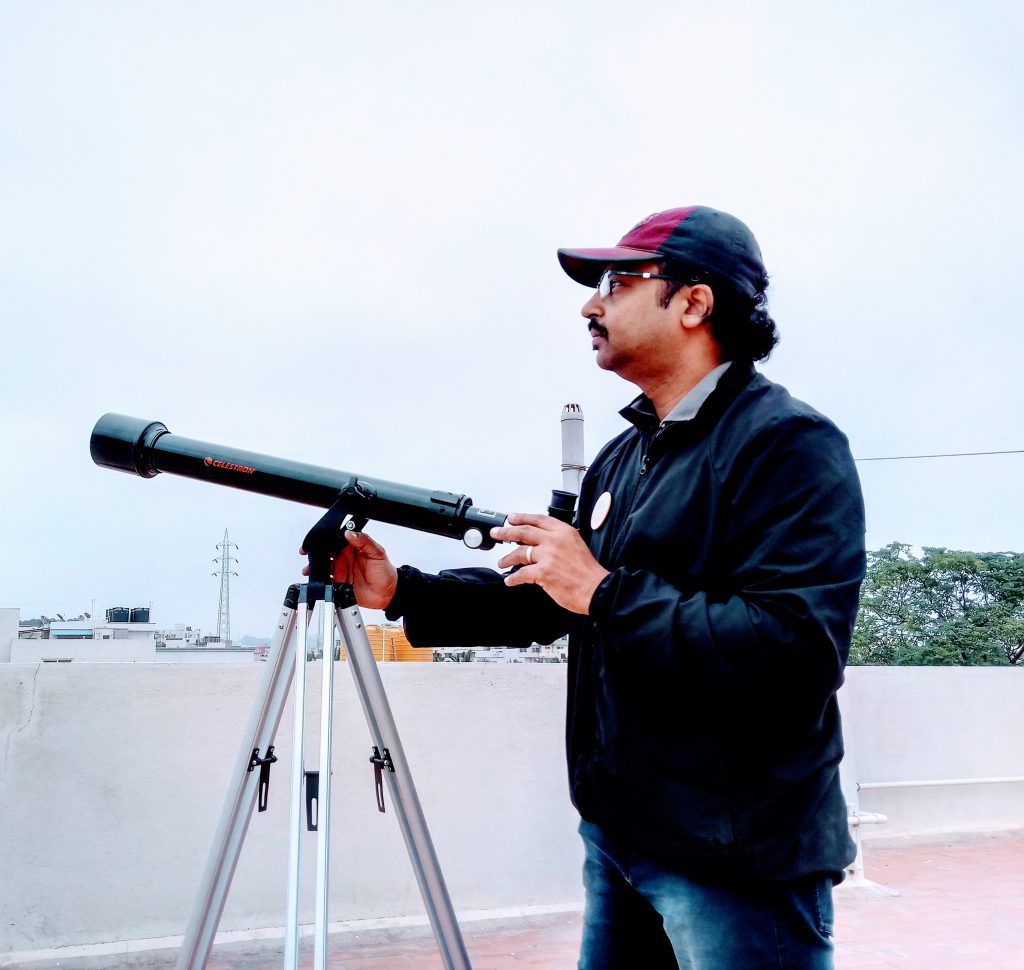 To my delight, my dear friend Arun (fondly called Arun meshtru) from Mitra Academy arrived to watch the eclipse. The eclipse started and there were news items and social media updates of the same. As my telescope was spanning the eclipse, Arun and I got into a discussion of the public interest about such events. We deliberated on the onslaught of TV programmes that spread misinformation about the eclipse and its effects.
Our discussion ranged from mythological references of the eclipse to current scientific discoveries. We also mulled over the importance of educators like us to keep the next generation informed accurately about the science of these events. As we chatted, a thin cloud moved aside and gave us a 7-second window to watch the magnificent event.
The 7-second spectacle:
The moment I was waiting for was at 9:29 am and the cloud just moved aside and made way for the camera to click and record the partial eclipse. In those 7 seconds Arun got a snap of me adjusting the telescope's eyepiece to view the eclipse. He also got a glimpse of the eclipse with his naked eyes.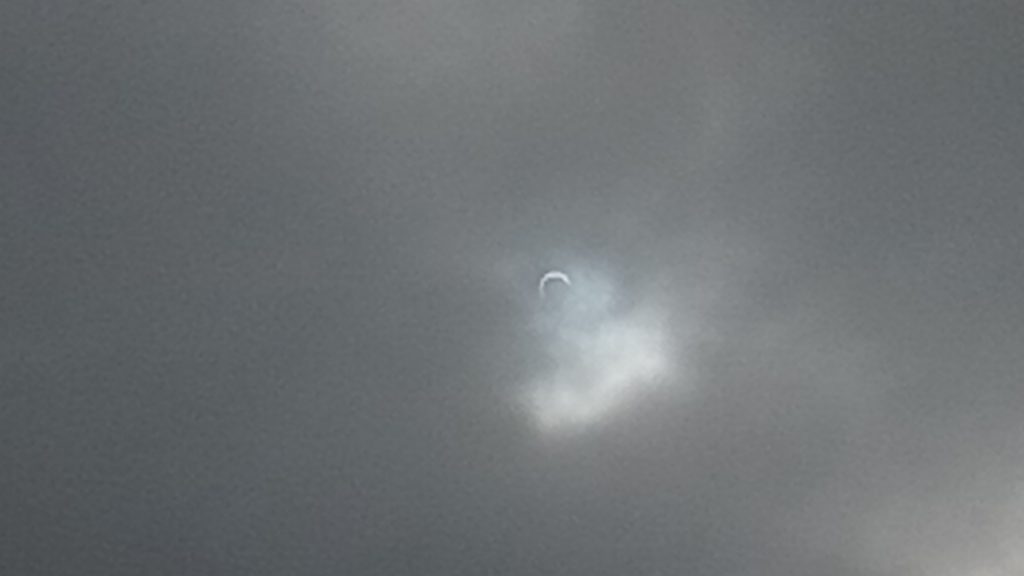 The eclipse lasted for a period of 3 hours and we could catch a glimpse of a mere 7 seconds. But the lesson learnt was very fulfilling. It was as if nature had decided to test our resolve to watch the eclipse. I believe we passed the test by waiting the entire 3 hours for a 7-second glimpse. Lo and behold, Mother Nature gave us a tiny window of appreciation for our commitment.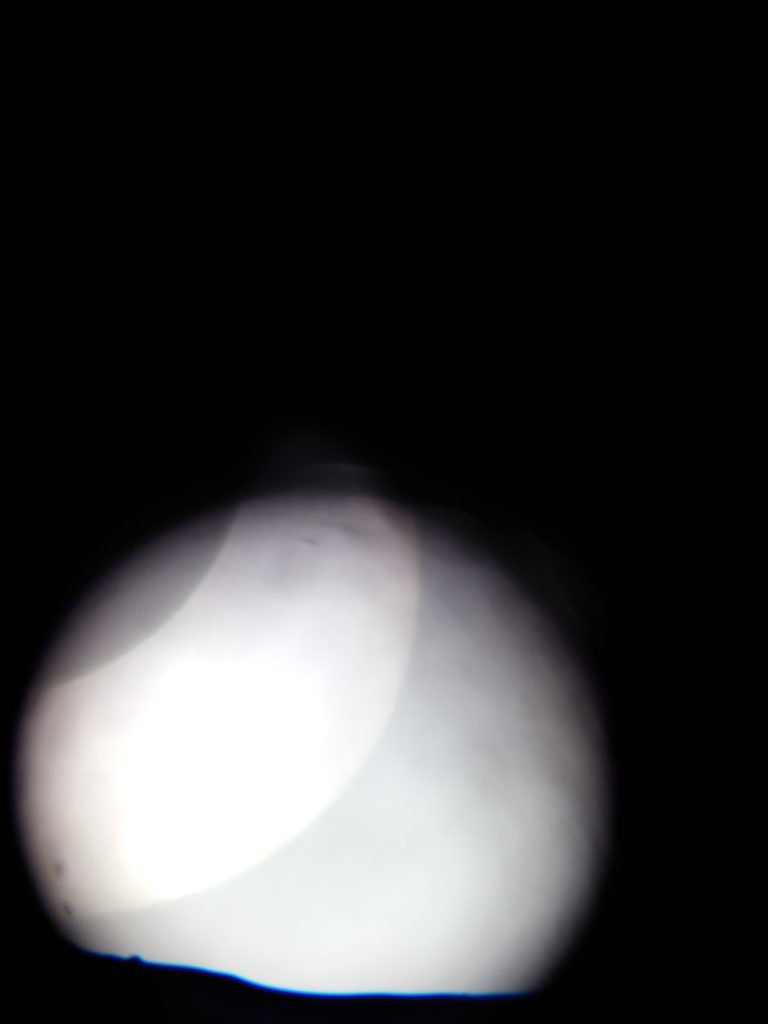 We realised how long 7 seconds could be after we started talking about the experience. We then went to the nearest eatery and had our favourite breakfast of poori-saagu followed by a brilliant cup of coffee.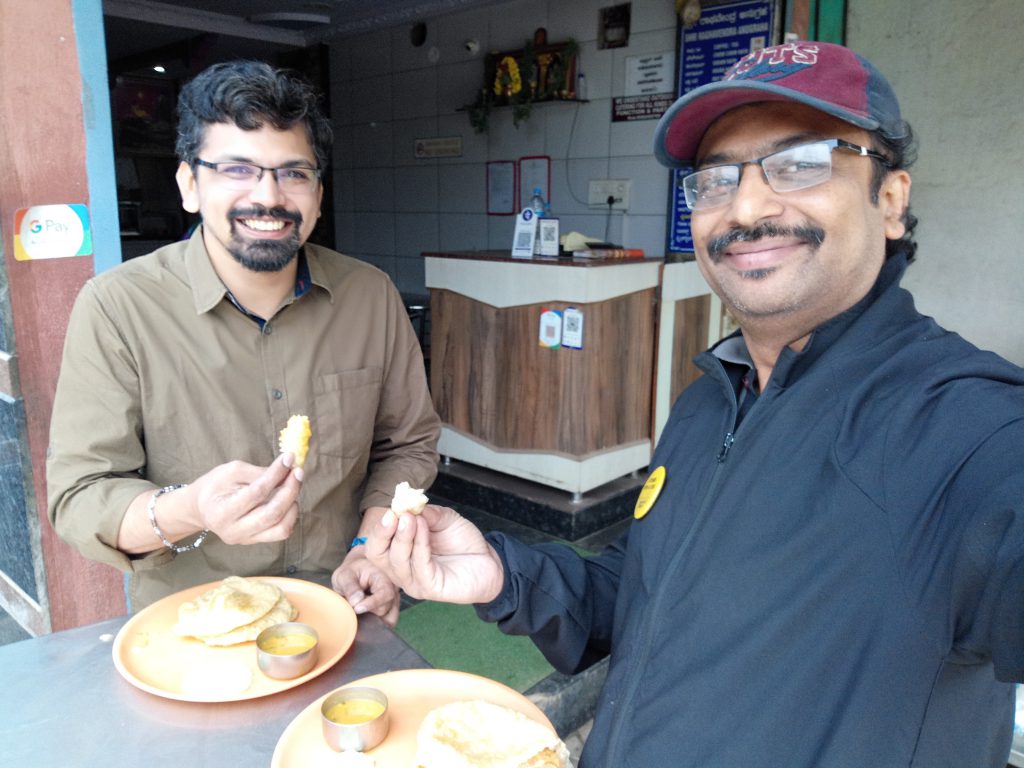 The learning:
Arun and I were wondering how many people would wait for the clouds to clear. The answer was on social media. We found a lot of fellow astronomy enthusiasts who did wait for a glimpse of the eclipse from namma Bengaluru. This is very encouraging to me as a teacher; to know that there are many patient individuals who are not looking for instant gratification. This is the lesson from the celestial event – "fortune favours the brave".
This eclipse also gave me a reality check that I have not lost the edge of an astronomer. It was a test of my resolve, patience, and perseverance. I feel each one of us needs to try such things – watch an eclipse or a comet, trek to a favourite destination, ride 1000 miles a day on a motorbike, meditate continuously for a week. Anything that challenges our status quo. This will certainly improve our will power and give us a better understanding of what we believe and what we stand for.
Until next celestial event, Aloha!
The following two tabs change content below.

Sriraghavan S M
Sriraghavan (Raghu) is an Astronomer by qualification (MSc, Astronomy, Bangalore University) and a teacher by passion. He is a trained counsellor and psychotherapist. His firm belief and conviction to transform the education system in India led him to be an entrepreneur through NumberNagar®. His core work at NumberNagar® revolves around product presentations, academic content, and training. He teaches Maths and Science to young students, rubbing off his passion to them. He trains teachers as well, inspiring them to better themselves. He has taught Physics in educational institutes, during his early career days. He has travelled extensively all over Karnataka, training teachers and popularising Astronomy. He advocates multiple intelligence and is constantly on the lookout for new things to learn. He is ambidextrous and enjoys sketching. He was an avid cricket player in his younger days. He is an enthusiastic biker and uses long solo motorcycle rides as means of reflection and rejuvenation.

Latest posts by Sriraghavan S M (see all)