Conceptual Understanding:
The significance of conceptual understanding in the modern education system in India cannot be stressed enough. This is especially important owing to stiff competition emerging at every stage of the academic ladder.
The beauty of learning at NumberNagar® is that learning concepts right the first time is not wishful thinking anymore. The wish is transformed into a tangible and attainable result. We are confident that a child's entry into our NumberNagar® Sanjaynagar space buttresses the academic foundation for years to come. This confidence emanates from the intricately woven 5C™ methodology that encompasses the unconventional and free-spirited NumberNagar® learning space.
The space that is replete with carefully designed components and clarity kits for academic subjects complements the facilitating experience. Serving a diverse age group of students with distinct learning abilities enhances the teaching experience multifariously.
The components and activities at NumberNagar® aid conceptual understanding in a way that contributes to life-long learning. For instance, activities for English grammar structured around space components and the clarity kit, cement the concepts in students' minds.
Teaching and Learning Strategies:
Added to all these qualities are the powerful facilitation strategies of individual attention, customized learning programme, and personalised learning experience. Personalised learning is the key to ensure student success because it is the one experience unavailable to students in school. In a class of 30 to 40 students, a teacher's time and attention are unfairly divided. Those students that need more attention do not receive it. It is neither the fault of the teacher nor the student, the system is built that way.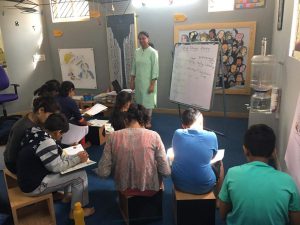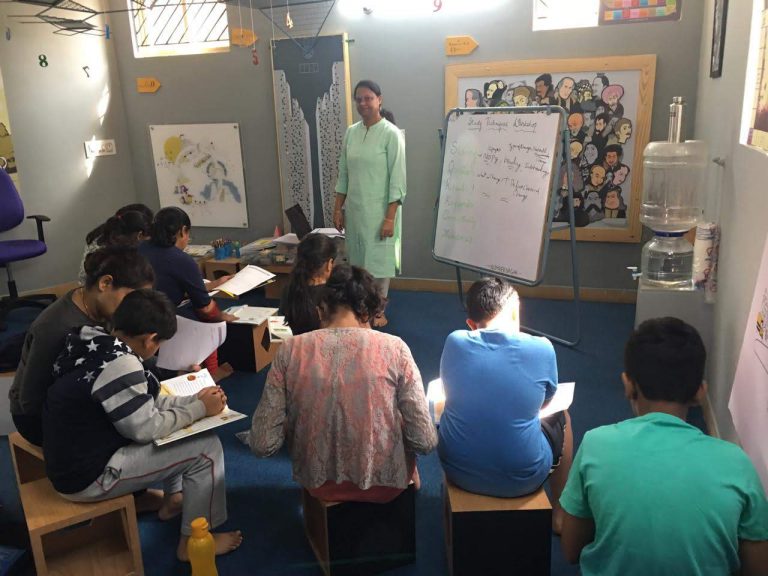 Student Stories:
This is where the learning experience at NumberNagar® makes a significant difference in a child's life. We have captured below, some of our students' learning journeys. These journeys have filled our hearts with joy and contentment.
Driving out fear:
Meet Gayatri, a grade 1 student who has been coming to NumberNagar® from the beginning of the academic year. She is thrilled and excited whenever an activity is planned using clarity kit elements. The vibrant colours of the kit elements and the variety of activities bring out her love for Maths. She looks forward to every new activity with enthusiasm and her fear of learning is gone. Just imagine if we were all taught Maths in this way from an early age! It would have made a tremendous impact on the way we look at Maths.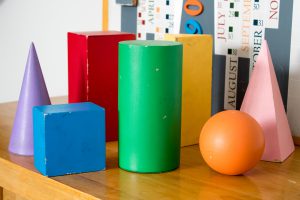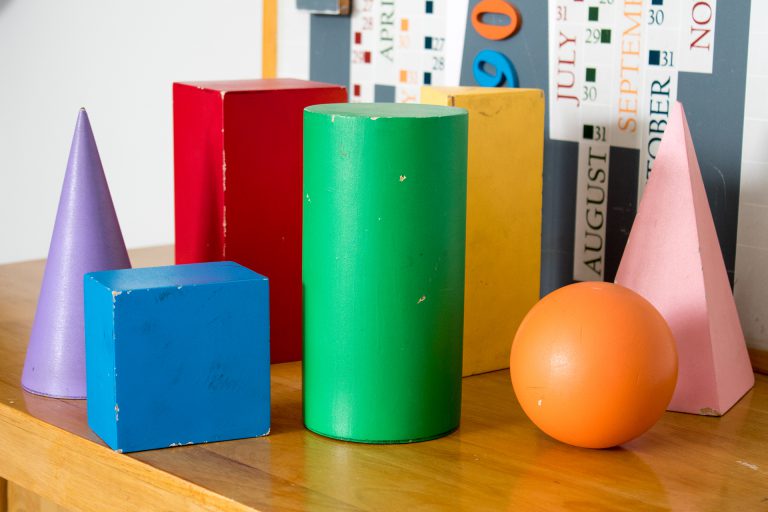 Applying learning:
Diya is another studious learner at NumberNagar®. A sixth grader, she has been learning Maths concepts at her school mechanically. She never really got an opportunity to apply them in real life. NumberNagar® gave her this opportunity. It gave her a chance to re-look at those concepts with respect to real life circumstances. On applying these concepts, she has gained confidence in communicating these same concepts in a better manner. NumberNagar®'s commendable effort lies in bringing out the connection between the mathematical journey at school and real-life situations. This connectivity makes Maths interesting and fun to learn.
Mechanical effort to conscious effort:
Rishabh, a seventh grader has been learning Maths all these years with a mechanical approach. He looks at the "method" of solving problems, rather than the beauty of those mathematical concepts. The meaning and depth of every mathematical concept have never really amazed him. This is merely due to the dry and de-spirited way of learning Maths at school. The consequence of such an approach is that he fails to solve a slightly twisted or complex problem. This is one area that NumberNagar®'s methodology is effective. Not only is the student more curious but also he is able to apply the concept in different ways. As a result, Rishabh has shown a steady improvement in his scores. He has gained more confidence and his parents are extremely happy. When a student learns Maths this way, it makes him competent enough to solve or at least attempt complex problems.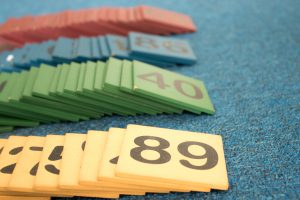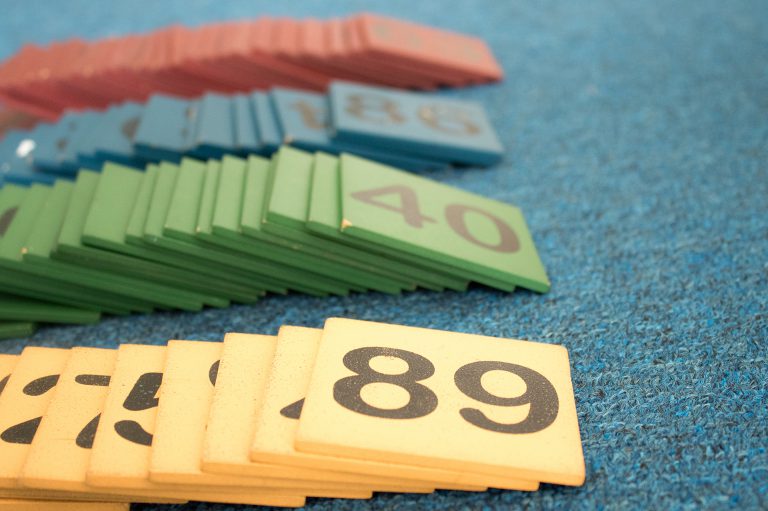 Unleashing Creativity:
Diya, a sixth grader, is an enthusiastic learner. Her enthusiasm coupled with 5C™ methodology has brought a stark difference in her conceptual understanding in Maths and English. She has managed to elevate her skills in LSRW (Listening, Speaking, Reading and Writing). This elevation is the result of Diya's devotion, the 5C™ methodology and a resolute effort from the facilitators. Diya's assimilation of conceptual knowledge allows her to apply the concepts confidently in new academic scenarios. She is now confident about comprehending passages from a variety of genres and is honing her writing skills. NumberNagar® has given her the opportunity to unleash her creativity and implement that creativity in academic learning.
Making learning lively:
Abhinav, another sixth grader who has enrolled for Science is a cheerful lad who loves Science. He is ever-inquisitive and we at NumberNagar® Sanjaynagar make a conscious effort to quench his inquisitiveness. Science activities, which are pegged to his school curriculum, have been customised for his learning experience. He enjoys doing every bit of the activity.
For instance, a lively experience for both Abhinav and the facilitator was the making of an edible cell model. Abhinav's enthusiasm for the activity was evident in his sparkling eyes. The end result was a bedazzling cell model made of raspberry jelly adorned with candies representing the cell organelles. Abhinav's wonder-struck smile at the end of the activity was the goal that we strive for. Getting the concepts right in the child's mind: not with forceful rote-learning but with a delightful learning experience. Not only did Abhinav enjoy gulping the yummy "cell" at the end of the session, he left with an ever-lasting image of a living cell. This experience made cytoplasm and cell organelles more relatable to him compared to the diagrams in his textbook.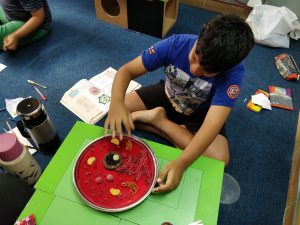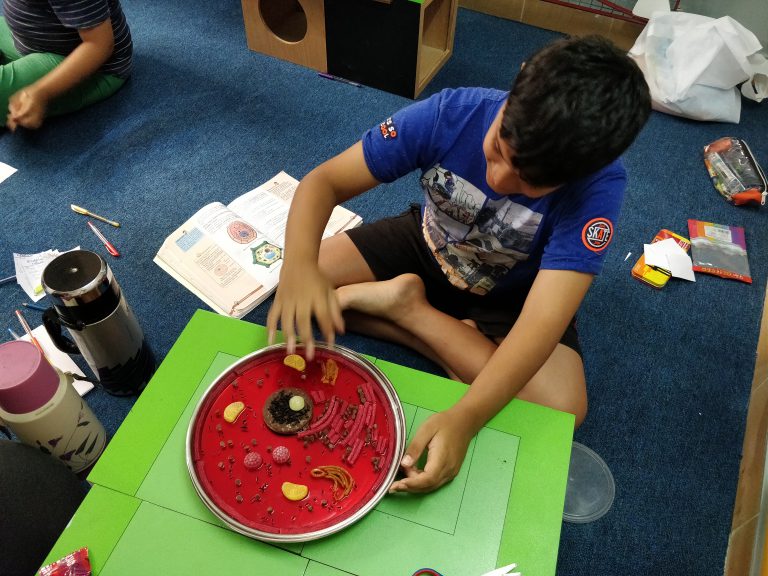 Conclusion
When the focus shifts from the teacher to the child, learning is more meaningful. Children assimilate learning content much better when they are more active and involved. It pays, in the long run, to encourage child-centric teaching and learning strategies over one-size-fits-all methods.
Note: Some of the student names have been changed to protect their privacy
This article has been co-authored by Chandrika Ramesh and Neha Singh – the proud facilitators at NumberNagar® Sanjaynagar.
The following two tabs change content below.

The editorial team at NumberNagar® collates and curates articles from various associates - teachers, parents, students, partners. This is an effort to provide a platform for anyone involved with NumberNagar® to share their views.

Latest posts by Team NumberNagar® (see all)