Learn English with Phonics
When a strong foundation of basic concepts is laid at a young age, complex concepts can be learned effectively. Our team's experience at NumberNagar® tells us that this is possible when we learn English through Phonics.
When I was in primary and pre-primary school, English learning began with A B C D. After that, there was an organic progression into short words, long words, sentences, and grammar. This pattern continued all through my school years with corresponding reading exercises at every stage. A standard test for vocabulary building was dictation, and I remember that I would score well in these. The reason was I had a good memory for letters and words. I always did not know the rules or logic, but I remembered the spellings well.
I learned about phonetics and phonics later in my life. In recent years, owing to extensive work at NumberNagar® related to phonics, I have learned more. I am convinced that using phonics to teach young children will help them gain mastery over the English language. This in turn builds a strong foundation.
Here, I look at 3 reasons why we should learn English through phonics.
1. Letter – sound correlation
Letters and sounds are an integral part of any language. A letter is a written representation – also known as grapheme. A sound is a distinct vocal expression – also known as a phoneme. Young children start learning by imitating and learning new sounds. When they progress to identifying written content, letters/symbols play a major role. To gain reading proficiency, the letter-sound correlation is a crucial factor.
In most Indian languages, letters and sounds have a one-to-one correspondence. We write what we say, and we say what we write. In English, there are 26 letters and more than 40 sounds. The name of the letter need not be the same as the sound that the letter makes. Additionally, the same letter can make multiple sounds. This can be confusing to early learners, especially when their native language is an Indian language. Read our earlier articles on the sounds of 'a' and sounds of 's'.
When early learners learn English through phonics, they gain a heightened ability to identify and match letters and symbols to their appropriate sounds. This ability ensures that learners identify and learn new words quickly, leading to enhanced vocabulary.
2. Ease of reading
At NumberNagar®, we have interacted with many children who struggled with reading. Children as young as 3 years to as old as 12 years have displayed trouble with reading English. This difficulty with reading impacts older children adversely because it is a fundamental skill for comprehension. Because of diminished reading ability and comprehension, they faced difficulties not only with English but also with other subjects. The symptoms of this problem manifested as – poor test scores, disinterestedness in all subjects, low self-confidence, anxiety during classes.
We have used the phonics method extensively with all our students. The way the phonics programme is structured, it starts where the child is and helps them progress from where they are. Once we identified the root of the problem as the ability to read English, using the phonics method was a no-brainer. We have been able to help children at all reading levels. This has enabled not only enhanced reading ability but also an enormous boost in confidence.
We have also heard from many parents that children show voluntary interest in reading. They are eager to pick up books to read because they have learned the logic of reading through phonics.
3. Academic performance
The way our formal education system is built, academic performance is important for students. Especially for those in grade 7 and above. Our experience has taught us that a lot of students who face reading difficulties exhibit poor academic performance. With a majority of urban schools using English as the medium of instruction, this is a prevalent problem. If this problem is not identified and addressed in a timely manner, students face major setbacks in their academic progress.
In such situations, identifying learning gaps and using phonics to fill those gaps has been greatly successful. Even with children in grades 9 and 10. Once we clearly understand the problem and use a non-judgmental approach to solving it, students show great enthusiasm. Their learning curves are low, and they grasp the concepts quickly. This enables them to gain confidence, their understanding improves, and this is reflected in their test scores.
NumberNagar® Phonics Kit
Our work with children at NumberNagar® has taught us that building strong foundations in basic concepts is essential. For English, phonics is an effective and logical method to build strong foundations. Following from all our research experience with students, now the Phonics Kit is available for parents and children to use at their homes. So far, we have heard good things about the experience of children and parents.
There is no substitute for a strong foundation. If we take short cuts, the entire building collapses. This is as true for learning as it is for buildings. All effort in this direction will bear fruits in the long term.
I urge parents to focus on this and help children build conceptual strength for long-term benefits. Even if it comes at the cost of test and exam scores in the short term.
*************************************************************************************************************
All the articles related to Phonics on our blog can be found here.
*************************************************************************************************************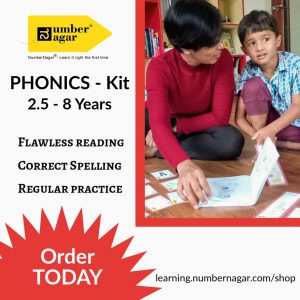 Have you invested in the NumberNagar® Phonics Kit yet? It is the perfect gift for children in your family and friends' circles. Order your kit now and gift a child the joy of learning.
Featured image credits: Gerd Altmann from Pixabay
The following two tabs change content below.

Dr. Soumya is an Educator and Researcher with a passion for reading, writing and teaching. She holds a PhD in Chemistry (Michigan Technological University, Houghton, USA). Her experience as a student and a teacher in two countries led her to pursue a career in Education. Her core work at NumberNagar® involves quality delivery of product and services at every stage of the customer life cycle. She leads the team that makes this happen. Previously she has taught Chemistry to first year undergraduate students at Michigan Technological University. She is a voracious reader and challenges herself to read 50 books every year.

Latest posts by Dr. Soumya Sreehari (see all)