I'm a technologist and I use many tools for my day to day activities. They serve many purposes for me. For example, they remind me of the upcoming event or meeting, they help me understand the list of pending tasks, and so on. In general, these tools make me more productive so that I can take off yet another chore from my mind.
While I was a student myself and when technology was not much prevalent, I used to use a few tools as well. Most of these tools are still relevant for students of any grade. They can help you take notes, retain your learning, and do a quick revision or group study.
Let's discuss a few such indispensable tools which everyone should have in their toolbox.
Tool 1: Use Mind Maps as a note-taking and revision tool
If you ask me to name just one tool to rule them all, I'd suggest you use mind maps.
A mind map is a diagram used to visually organize information. A mind map is hierarchical and shows relationships among pieces of the whole. It is often created around a single concept, drawn as an image in the center of a blank page, to which associated representations of ideas such as images, words and parts of words are added. Major ideas are connected directly to the central concept, and other ideas branch out from those major ideas. [Source: WikiPedia article about Mind map]
Some of the numerous ways you can mind-map no matter if you are a student or a teacher are:
Note-taking in classes, during a discussion, while traveling and so on
Quick revision tool just before the exams
As a tool for generating and documenting a lot of ideas.
As a tool to organize your schedule, lecture, classes and what not
Mind maps are very powerful. The example below shows how various concepts of Trigonometry can be organised using mind maps. A picture is really equal to a thousand words when it comes to this example.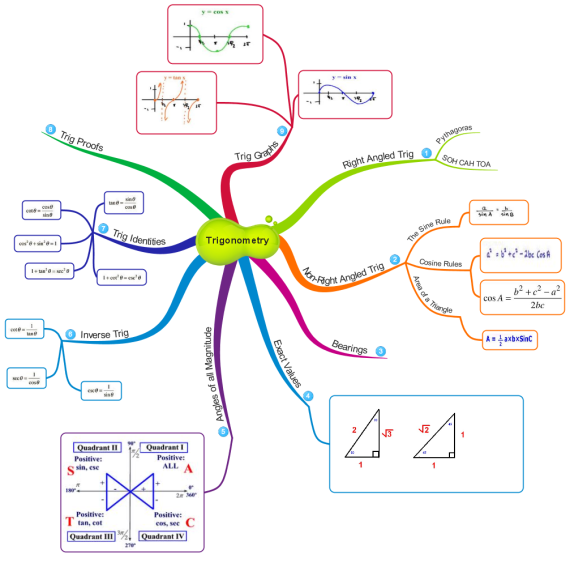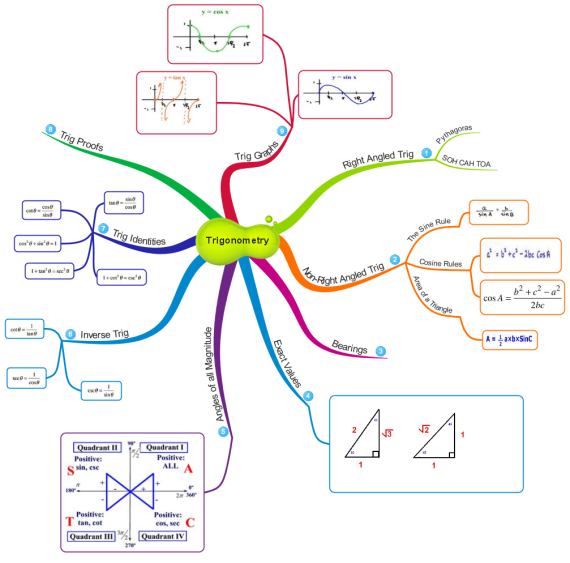 Tool 2: Use Post-it Notes as a revision tool and to collaborate
The humble post-it notes can be your close friend when it comes to increasing your productivity and keeping yourself organised. Add to that the ease of use, and you'll soon wonder why you didn't use it before. I can write paragraphs and paragraphs about post-it notes including how we can use it for design thinking, SCRUM updates, taking minutes, brainstorming complex ideas and so on.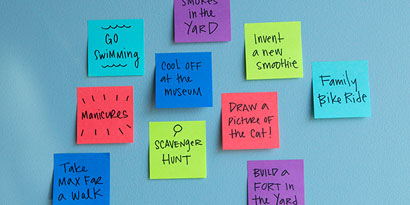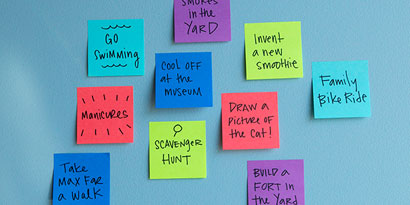 Some of the ways a student or a parent can use post-it notes are:
As a tool for creating Flash Cards – You can write difficult formulae, equations, definition, etc., on each note. Stick it around in your room or at your desk and you can look at them multiple times a day.
As a simpler planner for you upcoming exams/competition/event – You can make a simple timeline on a chart paper or even on an empty wall by sticking
As a tool for group study and brainstorming – You can use them as a tool for having a very productive group study where each of you create simple-to-understand notes for your part of the syllabus.
Collaborate on a school project – Post-it notes are a great resource when it comes to collaboration. It is so easy to collaborate that this is the only tool (with pen or pencil) you need to create outline, generate ideas and divide the work amongst your team members.
As a tool for teachers to plan their classes, lectures, homework and what not – You will never run out of applications of Post-it Notes if you are a teacher.
And many more…
I suggest you use the post-it notes or sticky notes wherever you can and all of a sudden you will become more productive and organised. Just make sure you use these notes from a well-known company like 3M's Post-it Notes. 3M ones don't leave any mark on any surface and that's exactly how you want your most productive tool to be.
As an icing on the already delicious cake, Post-it Notes come in all sizes and shapes, including pads, strips and many other ones. Just use your imagination.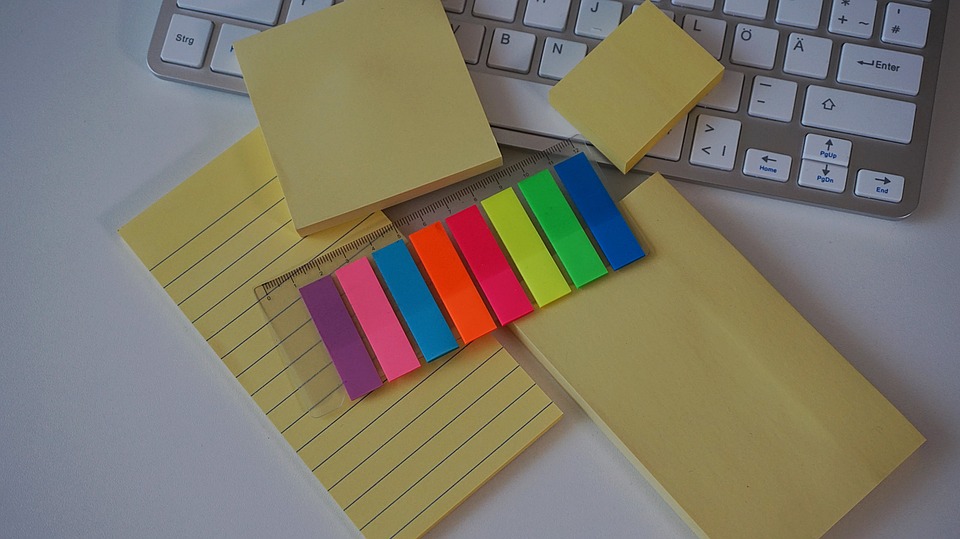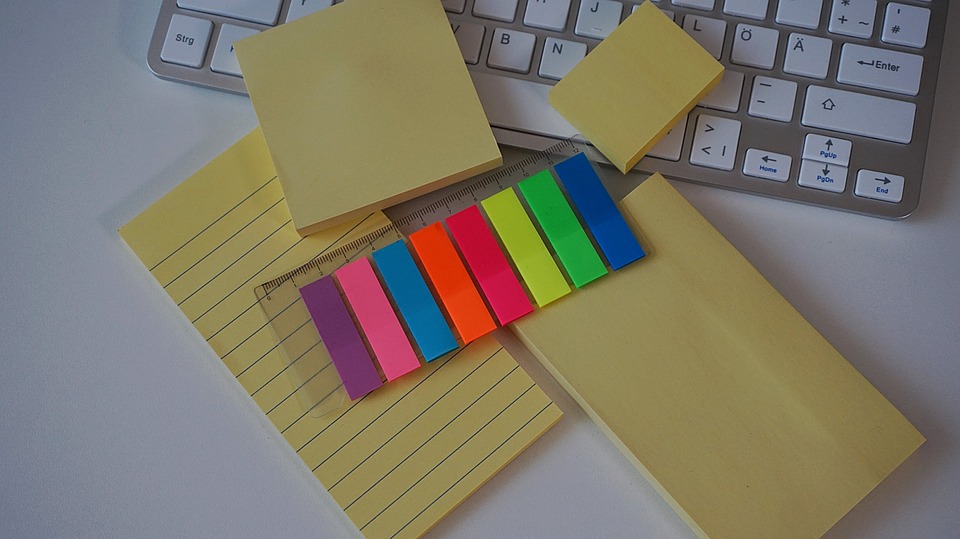 If you want more productivity and organisation related ideas on Post-it Notes, please visit www.post-it.com/3M/en_US/post-it/.
Tool 3: Use Lists to manage your pending tasks or plan a day
Lists are simple aids which you create on paper. You can create them as a numbered list, bulleted list, or even create them in a checklist style. No matter how you use lists, this is something which just needs you to list down all the tasks one in each line, and that's all. This is a very simple yet powerful tool which keeps tracks of your tasks.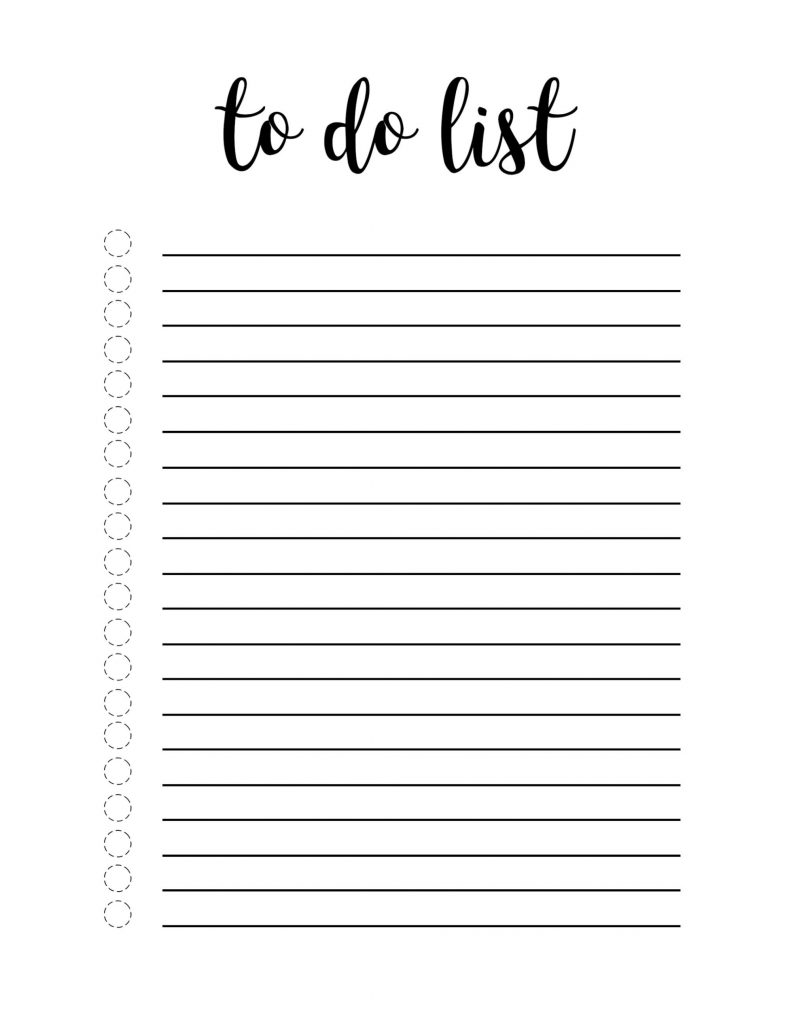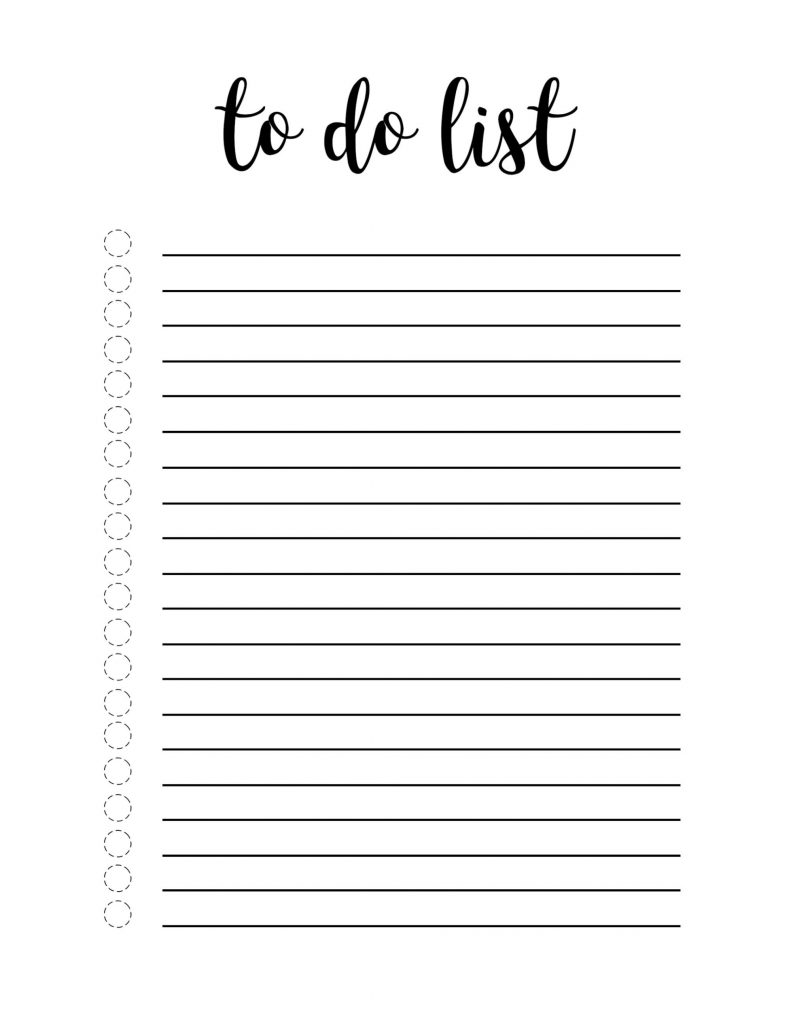 Apart from keeping track of all of your tasks, you can also use checklist style lists to make sure you don't miss a step in a procedure, or an ingredient in your recipe.
Another important thing about a list is that it gives you a sense of progress. I always feel I'm progressing in my list of tasks when I strike off or check tasks as I complete them. If I'm able to mark most of my tasks complete by the end of the day, it makes me feel a great sense of achievement.
I'd recommend you try it and you'll be surprised to see how much it can add to your productivity.
Look at this Pinterest page for ideas about creating simple or fancy lists: in.pinterest.com/pin/50454458309265977/?lp=true.
Conclusion
Tools are our friends. Whether you use an app for each of these productivity or organisation tools, or you use them in an old-fashioned way, they are going to help you.
Do you have any other idea about a productivity tool? Do you want to discuss more on these tools? Please keep the discussion going by adding a comment below.
The following two tabs change content below.

Nishant is an Entrepreneur, Software Architect, Innovator and Inventor with 18+ years of experience working on EdTech, Cloud, and Virtualization, Software-Defined Network (SDN), Internet of Things (IoT) technologies, Machine Learning, security compliance, API Development, and Network Management Systems (NMS). He is the co-founder of "Tech Machinery and More Pvt. Ltd." and Head of Technology at NumberNagar. He also works on few architectural consultancy projects in Cloud, Security, UX, IoT, and Machine Learning, with IEEE. Nishant has 4 patents granted and 7 patents filed/pending with US Patent Office and India Patent Office in the areas of Network Management Systems, Cloud, Virtualization, SDN Technologies, Security, and Anti-Counterfeiting technologies. He participates actively in User Experience (UX) and Wireframing related activities. His areas of interest include Cloud and Virtualization, Machine Learning, IoT, UX, User Interfaces, Network Security, Ethical Hacking, Cryptography, Anti-Counterfeiting technologies, public speaking and latest tech and gadgets. He is an active member and contributor to numerous technical meetups. He is also a contributor to IEEE conferences and IEEE standards (P1931.1, P1451-99), and member of subcommittees and working groups working on defining standards for IoT and Smart Cities. He has a Master of Science (MS) in Software Engineering degree from BITS, Pilani, along with many technical certifications.

Latest posts by Nishant Krishna (see all)