Have you ever wondered why we do the things we do in life?
Introspection:
As a kid and even as an adult, this question always disturbed me. Why am I curious to know things? Why do I need logical closure to the questions in my mind? Why do I long so much for my friends and my loved ones? And most importantly what is the voice that speaks when I have shut my mouth?
Now a one line answer I have found for all the above questions is – "It is human nature". Yet, I am not satisfied. Now the new questions are – Why is it human nature? What is this human nature?
You have probably guessed by now that the scientist in me has been alive for a long while. Ever since I was as young as 6 years, I have had some of these questions in my mind. Today I have learnt that these questions are due to a form of Intelligence called the Intra-personal Intelligence. Sorry for jumping the gun, but that is how my brain thinks. It makes a lot of cross connections and many times goes off-topic when I am lecturing or writing. During lectures, organising my ideas into slides helps get back to the topic, thanks to technology. In writing, I trust my editor completely for that purpose 😊.
Childhood memories:
When I started reading about the origins of intelligence – the reason why we are different from other animals (in my personal opinion we are not that different) – I came across Dr. Howard Gardner's Multiple Intelligence (MI) theory. It made tremendous sense and gave me insights into our mythology and my personal philosophy of life itself.
Let me explain the connection of MI to mythology. This scene is from Mahabharata. Drona – the teacher asks each student what they see while preparing to take a shot. Their target is a parrot on a branch of a distant tree. Based on each student's answer, he classifies their strengths into different categories. He also tells them that Lord Krishna is a "Purushothama" (best among men), having mastered the 64 arts of learning.
While I dug deeper into the MI theory, I understood it better. This was because I connected it with situations from my life and mythological stories from my childhood. So, should I thank Gardner or my grandmother for my understanding of the MI concept? I don't know! I have distinct memories of childhood activities connecting to each MI.
Interpersonal and Visual-Spatial:
Today I am very confident on stage and have spoken at hundreds of occasions on stage. Where did I learn that? When I think back, my earliest memory of communication skills is from when I was 6. This was my first time on stage playing the role of Birbal – the witty minister in our school-day drama. I was selected because I loved talking. Most around me saw that as a weakness, either asked me to shut my mouth or made a satirical comment about my big mouth. My class teacher Ms. Kumari (Kumari Miss as I remember her), however, saw that as a productive skill.
One day in Grade 2, Margaret Miss pulled a few students out of class. She asked each one to colour a crocodile image. She was probably selecting some students to send them to a drawing competition. I was one of them. I coloured the crocodile orange. I meticulously coloured every scale on the crocodile's skin on the image I had. I took longer than the others and gave back a good picture (at least that's what I thought). When I didn't get selected, I realised that my work was not good enough. Since then I have continued to work on my drawing skills. In retrospect, this incident triggered a sense of wanting to be good at everything I do. It remains with me till date.
Math-logical:
My love for science, experimentation and logic can be attributed to Champu Bai (CAS) ma'am. She was the one who first showed me the moon through a Newtonian telescope on the terrace of her home. This first view of celestial beauty through a lens stayed in my mind for long. The incident influenced me to set my goal to be an astronomer. I am a proud astronomer today purely because of the kindness of my teacher.
On a Saturday afternoon, CAS ma'am was on her way back from lunch and saw me sitting on the school compound. I was waiting for my bus. She asked me to come with her to the 7th grade lab session and observe. It was my initiation into the life of a scientist which got its boost with my love for Astronomy. This love was greatly rekindled with my association with the planetarium during college.
Musical and Naturalist:
Later in college, Fourier analysis kindled my interest in classical music. I tried learning the flute from my uncle Srinivas (Chini mama). The training ended as abruptly as it started. This short stint of music learning has left a lasting impression of music in my mind.
My naturalist intelligence was nurtured by various trips and treks I went on, during and post college days with my science buddies. This team also influenced me to be an Entrepreneur and spread the knowledge of MI to the next generation.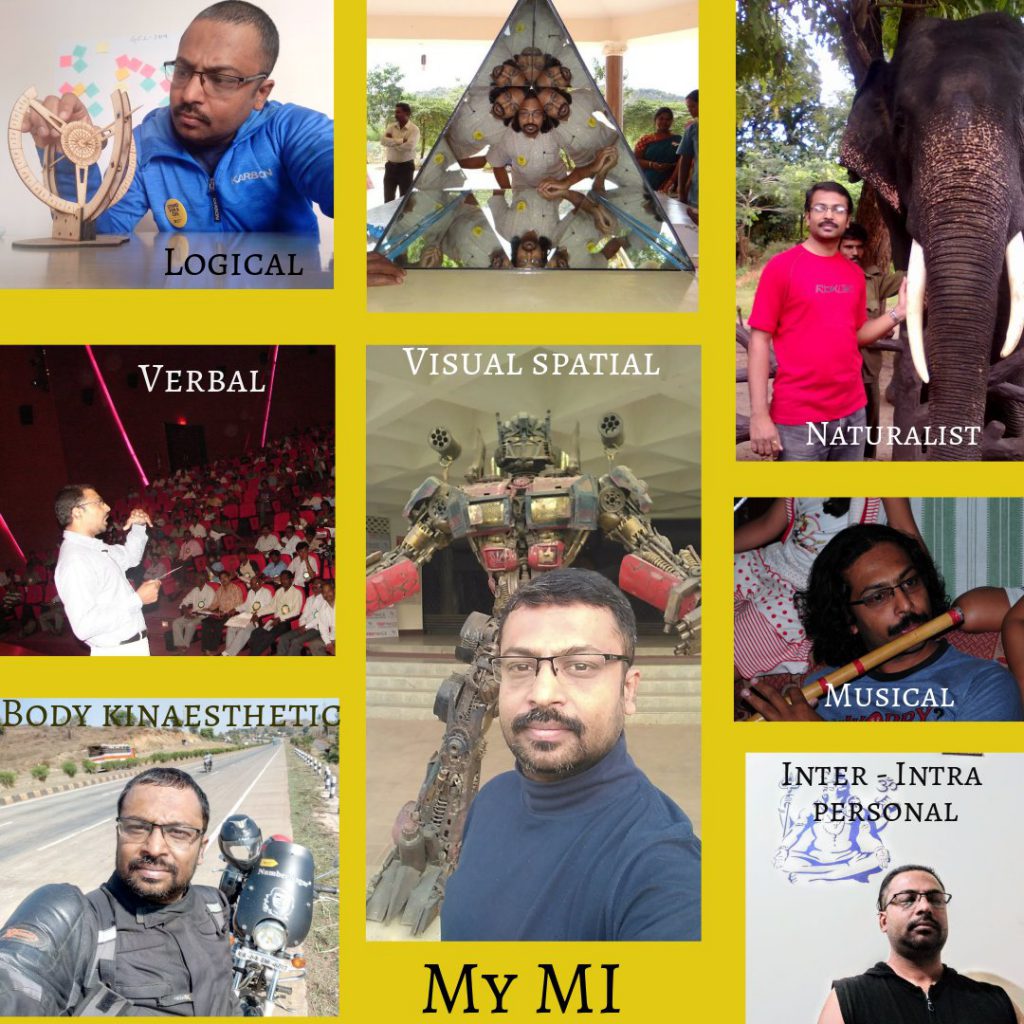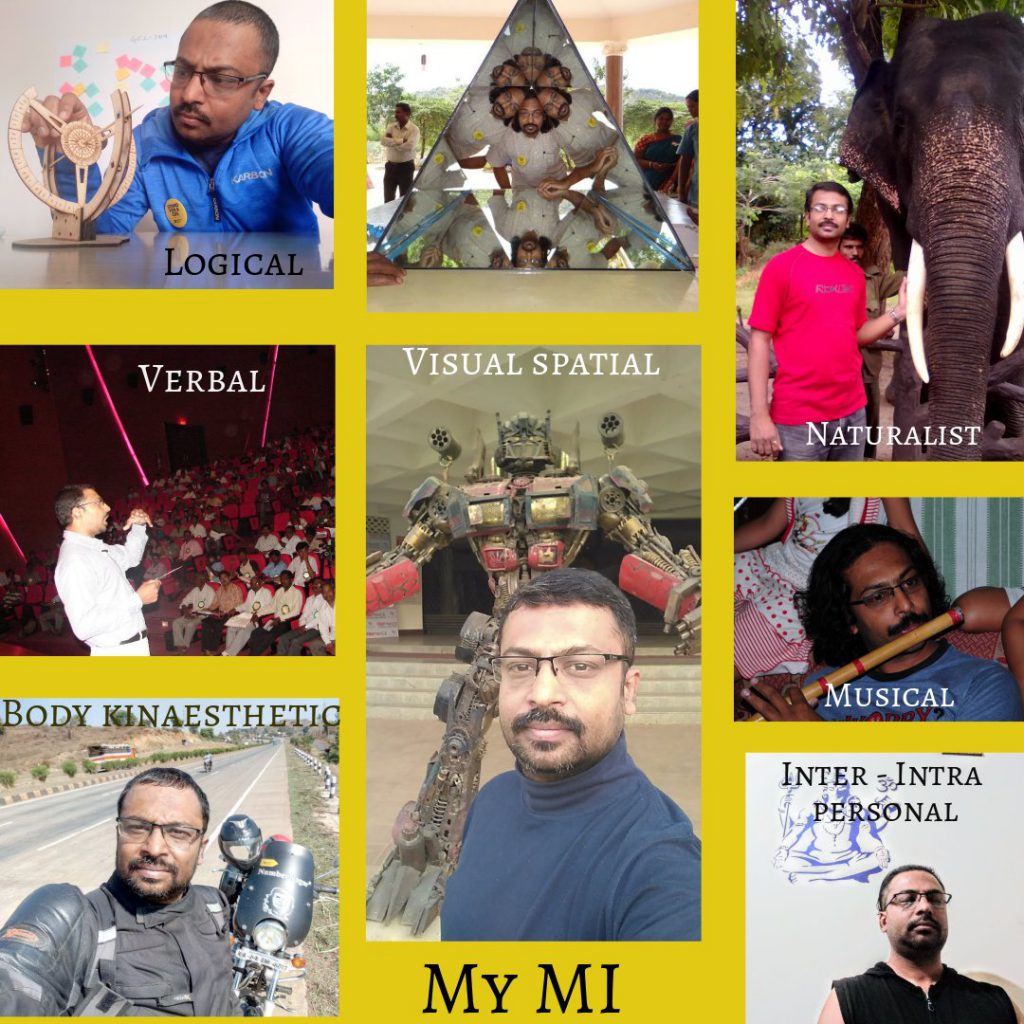 Making sense of MI:
As teachers and parents, self-awareness plays a huge role in shaping our children's lives. As we get more aware of ourselves, we will be more attuned to children's natural intelligences as well. There is no one-best-intelligence. We all are unique combinations of the 7 intelligences. Celebrating and nurturing the uniqueness goes a long way in educating our children.
At NumberNagar®, we follow a systematic process of learner profiling to identify children's natural intelligences. Once identified, we tailor our learning programme to use the natural intelligence and provide exposure to other intelligences.
Check out photos of our recent MI workshop on Facebook.
The following two tabs change content below.

Sriraghavan S M
Sriraghavan (Raghu) is an Astronomer by qualification (MSc, Astronomy, Bangalore University) and a teacher by passion. He is a trained counsellor and psychotherapist. His firm belief and conviction to transform the education system in India led him to be an entrepreneur through NumberNagar®. His core work at NumberNagar® revolves around product presentations, academic content, and training. He teaches Maths and Science to young students, rubbing off his passion to them. He trains teachers as well, inspiring them to better themselves. He has taught Physics in educational institutes, during his early career days. He has travelled extensively all over Karnataka, training teachers and popularising Astronomy. He advocates multiple intelligence and is constantly on the lookout for new things to learn. He is ambidextrous and enjoys sketching. He was an avid cricket player in his younger days. He is an enthusiastic biker and uses long solo motorcycle rides as means of reflection and rejuvenation.

Latest posts by Sriraghavan S M (see all)