As the exam season is fast approaching, there is one question on the minds of parents of X and XII grade students. Is my child prepared enough for the boards?
On the other hand, there are students who have spent a lot of time on non-academic routines. They are now beginning to feel the heat of expectations from self, teachers, friends, and family. Come to think of it, there are just around 90 days left for the boards. Preparation for the exams looks like a humongous task ahead. This is also the time when a student either changes gears towards focused preparation and or just gives up.
As a parent, how can you help? Here, I list down some tips for exam preparation. Both students and parents can benefit from this list.
#1 – Short term goal:
Fix an academic target. E.g., a final grade of 85 %. This should be specific. This should be chosen based on the ability and past performance of the child. As this is the final measure of the success of current efforts, there is no room for ambiguity. It works best when the student and parent are in agreement with this target. Parents must be realistic when expecting results from their children. Many a time it's my experience that parents overestimate the academic potential of their children. This leads to a lot of pressure which in turn leads to stress for the child. This stress most of the time leads to bad results.
Be clear and realistic in this goal.
#2 – Time available and Utility Matrix:
In an earlier article, I have mentioned the Eisenhower matrix of time management. This tool is very effective in understanding the importance of categorising and prioritising time. Therefore, they can focus on spending time where it is required. With 90 days left to boards, a student gets around 180 – 450 hours of time to study apart from their school time. This is a substantial amount of time is spent well.
Get a clear idea of priorities to achieve the goal.
#3 – Planning:
By November most of the schools have finished the syllabus and are on the pre -boards mode. But my experience says that most of the students are not there yet. Many students are yet to catch up with their mid-term syllabus. Though it is a matter to consider seriously, it is not a thing to worry about. I have seen students who outperform class toppers in the last mile. One advantage of preparing post November is that the mid-term results have already given a baseline of performance. So, we know where to start. Follow these steps carefully
Make a list of topics subject-wise and categorise them as Easy | Moderate | Difficult
Allocate appropriate time for each topic based on the level of difficulty
Use a weekly planner to keep track of your studying milestones
Ask someone else to validate your progress regularly
Make a compelling plan that reflects your needs and priorities.
#4 – Implementation:
The hardest part is the stick to the plan. As the pressure of time builds it is most natural to give up. When this happens, we console ourselves about low performance. We then justify the outcome by blaming the education system. I have seen a lot of intellectual nonsense regarding exams and the way we evaluate students. My advice is to stop justifying under-performance and take responsibility for utilising or wasting your talent. Every child is born intelligent, there is no excuse for not putting in the required effort. It is their laziness and complacency that drives them to make stupid choices. Stand with your child in this hour of struggle. Encourage them to stick to the plan and execute it with minimum deviation.
Execute your plan with minimum deviation.
#5 – Stick to the routine:
Once a routine is planned, stick to it and execute the plan one day at a time. There are going to be good days and bad days. Don't worry too much about the output every day. Make sure you stay in the game. Make up for the bad days during the week. Rigorously review your work on a weekly basis by yourself and with someone else.
Routine is powerful. Stick to it for better results.
#6 – Attitude about marks:
Many students ask me, "Why should I score 90+ marks? Is that the measure of my intelligence?", and so on. My response to them is, if you are capable of scoring 90+ marks, you better score it. If you don't do it, you can't justify your time at school. It might not be a measure of your overall intelligence. But it is also an important milestone in your academic journey. Also, scoring in exams is a skill that can be learned and perfected. So instead of asking why to focus on marks, ask yourself why not get the marks for which you have struggled the whole year?
Exams and marks are reality. Be fierce about attaining the best possible outcome.
#7 – Take help:
At NumberNagar® we help students with study techniques, time management techniques, memory techniques. These techniques help prepare well and score better in the exams. Identify what you need help with and reach out to the experts. You don't have to sweat it alone. Learn how to get help in time so that you stay ahead in the game.
Seek help to stay ahead.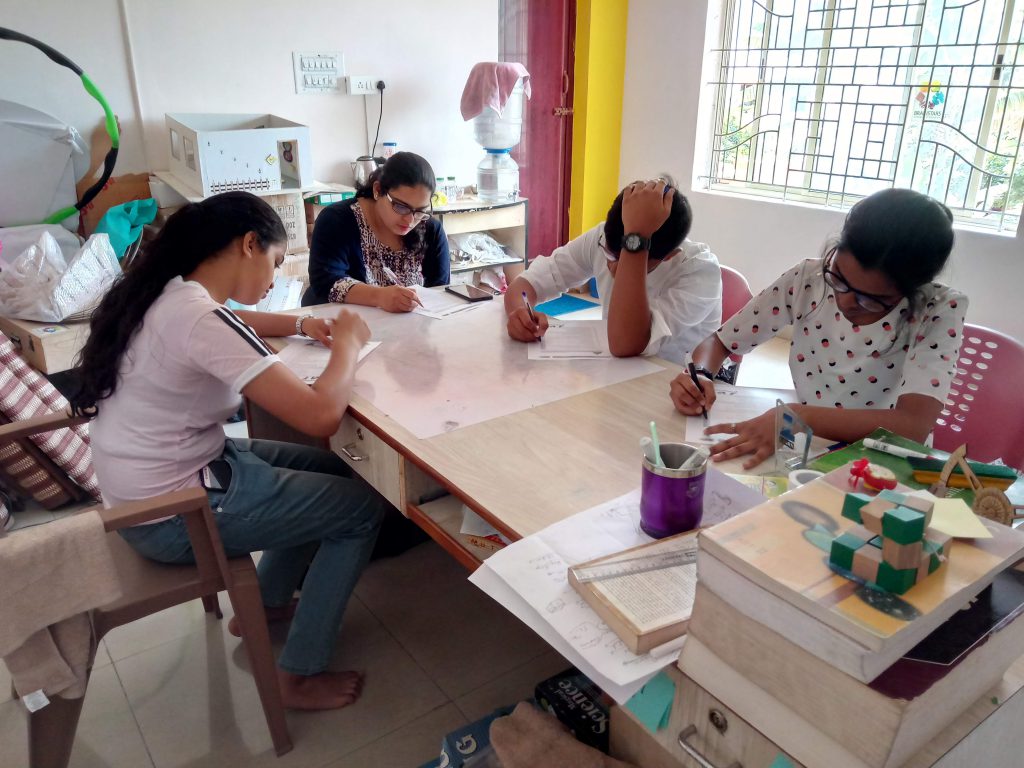 Parting note:
Students – Stop giving reasons for not sticking to the plan. It is very easy to blame the system, but we forget that we are the system. So, take responsibility for your actions and stay ahead in the game. Put your best foot forward and excel in your efforts. It is possible to score well if you follow the steps outlined here.
Parents – Teach your kids to be responsible. Help them in their efforts and support them in their struggles. Be empathetic, but firm with standards of work. In the larger context of life, school exams are the easiest. We all have learnt that as we look back on life. Life has a lot more challenges to throw at us as we grow.
tl;dr: A structured plan and routine for study can help you prepare and perform well in board exams. Follow the tips here for better preparation.
Featured image credits: Image by Лариса Мозговая from Pixabay
The following two tabs change content below.

Sriraghavan S M
Sriraghavan (Raghu) is an Astronomer by qualification (MSc, Astronomy, Bangalore University) and a teacher by passion. He is a trained counsellor and psychotherapist. His firm belief and conviction to transform the education system in India led him to be an entrepreneur through NumberNagar®. His core work at NumberNagar® revolves around product presentations, academic content, and training. He teaches Maths and Science to young students, rubbing off his passion to them. He trains teachers as well, inspiring them to better themselves. He has taught Physics in educational institutes, during his early career days. He has travelled extensively all over Karnataka, training teachers and popularising Astronomy. He advocates multiple intelligence and is constantly on the lookout for new things to learn. He is ambidextrous and enjoys sketching. He was an avid cricket player in his younger days. He is an enthusiastic biker and uses long solo motorcycle rides as means of reflection and rejuvenation.

Latest posts by Sriraghavan S M (see all)