Movie buff that I am, I always look for inspirational stories that make me think about my life choices.  Be it Marvel's Avengers for technology that could change class room teaching in the near future, or great biographies that tell us how holding on to what you believe makes all the difference.
I have been in an introspective state of mind lately and have had a strong urge to reflect on my life and connect the dots. Looking back at the last three decades of my life, I strongly believe that who I am today is the sum-total of all the experiences – good, bad and ugly – that I have had in my life so far. It also means that the future is even more exciting to look forward to, filled with great opportunities to learn and change.
I am an Astronomer by choice, Educationist by passion and an Innovator by profession. This journey has been splendid, so far.
If my memory serves me right, my love for Astronomy / Physics was inspired and instilled by my middle school Head Mistress – Mrs. Champubai A. S. (fondly called Champubai ma'am) – of Seshadripurum Stree Samaja. I was in Grade 5 when one evening while I was waiting for the HAL factory bus to go back home, she spotted me in front of her house and enquired about my waiting. Then she said, "why don't you come to the terrace of the house? I have a telescope that I want you to see."
Curiosity being my middle name, I forgot about my bus, went with her to the telescope and had my first high-resolution view of the marvellous moon. After this, the next time I saw through a telescope was when I joined the 100-hour programme in Astronomy and Astrophysics during my post-graduation.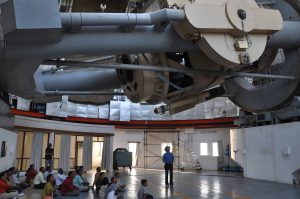 This experience of seeing the moon had me captivated subconsciously, however, an even earlier trigger was when my aunt showed the Halley's comet from our grandparents' home in Srirangapatna – the historical town that keeps reminding of great battles and bridges, it is also the reason why I secretly love History. 🙂
Although my love for Astronomy was not nurtured regularly through my school days, the art of teaching definitely was. I grew up watching my uncle teach village students in his spare time and back home my mom was a tuition teacher to neighbouring children who were really struggling with academics. She continues doing this even today. I think genetically I was predisposed towards learning. I always aced my academic work and kept the record straight throughout my school days.
Occasionally I would help my mom by monitoring her students at home, which I continue to do sometimes when I visit my parents. I also helped these students with Maths and Science concepts. This might have sown the seed of my love for teaching.  As a student, learning was my first love and the idea of standing first in class and the glamour of merit always attracted me. I can say that it was an additional motivation along with the need to impress my uncle and aunts whom I always looked up to.
The idea of solving real-life problems related to learning difficulties was sown in my mind by Prof. K. S. Nataraj, my college professor at National College Jayanagar, when he asked me to take a few science experiment classes for the students of Vijaya High school as an assistant to his friend who was a senior teacher there. The love for Physics was sprouting at the time and this opportunity gave a big boost to work directly with the two things I loved most – Physics and Teaching. This early experience of creative teaching led me to explore ways to improve teaching in classrooms and also be part of a learning innovation through NumberNagar®.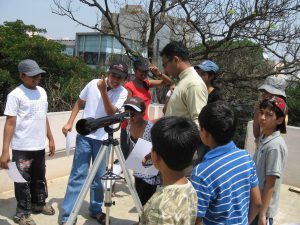 In the last few decades, I must have watched over hundreds of movies, but the inspiration for my life's motto comes from a story in the movie Shine – based on the life of Australian pianist David Helfgott. The protagonist wants to play a composition of the famous Rachmaninov, to which his teacher says, "no one's ever been mad enough to attempt the Rach Three". To this the student replies, "am I mad enough, Professor? Am I?"
This line from the movie buzzes in my mind every time I think of solving problems. I keep asking myself "am I mad enough?" to solve these problems.
This is a thin slice of my life's experiences that has motivated me to do things and take risks that would have deterred another person. At the right time in my life I have had the right kind of people whose madness has inspired me to stay mad enough about my life and my goals.
This mindset of life-long learning has helped me be a better teacher, a better researcher and a better human being. Now I make it a point to ask every one of my students, "are you mad enough?"
Featured Image Credits: Sombrero Galaxy/Pixcove/Creative Commons
The following two tabs change content below.

Sriraghavan S M
Sriraghavan (Raghu) is an Astronomer by qualification (MSc, Astronomy, Bangalore University) and a teacher by passion. He is a trained counsellor and psychotherapist. His firm belief and conviction to transform the education system in India led him to be an entrepreneur through NumberNagar®. His core work at NumberNagar® revolves around product presentations, academic content, and training. He teaches Maths and Science to young students, rubbing off his passion to them. He trains teachers as well, inspiring them to better themselves. He has taught Physics in educational institutes, during his early career days. He has travelled extensively all over Karnataka, training teachers and popularising Astronomy. He advocates multiple intelligence and is constantly on the lookout for new things to learn. He is ambidextrous and enjoys sketching. He was an avid cricket player in his younger days. He is an enthusiastic biker and uses long solo motorcycle rides as means of reflection and rejuvenation.

Latest posts by Sriraghavan S M (see all)